Posted on
Sat, Feb 9, 2013 : 5:58 a.m.
Survey under way assessing faculty's thoughts about University of Michigan administrators
By Kellie Woodhouse
University of Michigan's faculty governance is polling the school's thousands of faculty members on their satisfaction with university practices and administrators.
The survey solicits faculty opinions on the university including the performance of the library and police department and the role of a public university.
It also asks faculty to assess top administrators, deans and department chairs.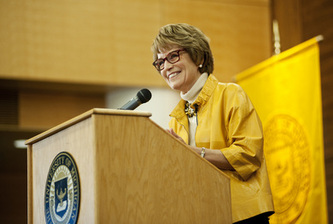 The survey opened Thursday and so far 8 percent of Ann Arbor faculty and 11 percent of faculty at U-M's Dearborn campus have participated, said John Lehman, a U-M professor and faculty senate secretary.
U-M has 7,300 faculty working at its three campuses, but the Flint campus does not participate in the survey.
Last year U-M President Mary Sue Coleman scored well on the report. With 604 faculty responding, Coleman received a 4.08 (out of a possible score of 5) for promoting the university's academic mission. Since faculty governance began the survey in 2005, Coleman hasn't received a higher score in that area.
She also received a 4.32 score for fundraising, a 3.52 score for her administrative appointments and a 2.86 score for consulting faculty before making important decisions.
The survey is expected to last about two weeks. While faculty respondents must be authenticated before participating, their answers are anonymous.
Kellie Woodhouse covers higher education for AnnArbor.com. Reach her at kelliewoodhouse@annarbor.com or 734-623-4602 and follow her on twitter.