Posted on
Mon, Nov 12, 2012 : 5:54 a.m.
University of Michigan gearing up to launch multibillion fundraising campaign next fall
By Kellie Woodhouse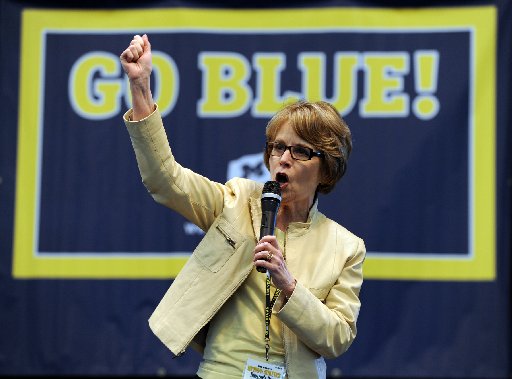 Lon Horwedel | AnnArbor.com
A
fundraising campaign
is a nebulous organism, an operation with many moving parts that takes years to define and even more years to implement.
The University of Michigan is poised to launch its next multibillion dollar fundraising campaign late next fall.
This year officials —from assistant professors and student affairs staff to deans and top executives— are gearing up for the campaign, helping administrators clearly define goals and working to form relationship with wealthy prospects.
Although university officials say they haven't set a campaign goal yet, the fundraising target will likely surpass the $3.2 billion raised during the four-year Michigan Difference campaign, which surpassed the original $2.5 billion goal. That drive ended in 2008, right before the financial crisis struck.
The forthcoming campaign will likely last between five and seven years. Its focus will be distinct from the Michigan Difference, with an eye toward people and scholarships and less on buildings (there were 22 building projects in the last campaign).
It will also celebrate a unique milestone: The university's bicentennial.
"Big campaigns like this take a lot of planning because you want to make sure you've aligned your goals and you've got everybody participating and contributing on how the campaign is going to be shaped," U-M President Mary Sue Coleman, who led the Michigan Difference campaign, said in an interview. "Thousands of people across the university build it layer by layer."
Gift giving to U-M has averaged $272 million annually over the last three years. During fiscal 2012 U-M brought in $288 million in gifts, compared to the $342 raised in 2008, the final year of the Michigan Difference campaign.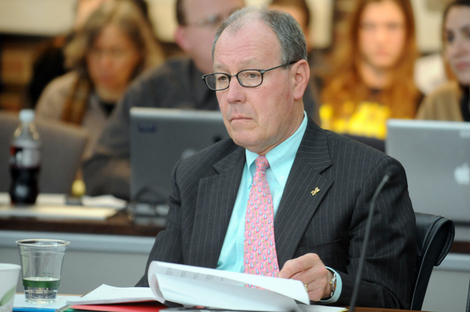 Melanie Maxwell | AnnArbor.com
Jerry May, U-M's chief fundraiser and vice president for development, said campaigns increase annual giving by roughly 40 percent.
"It ratchets up because of the intensity of the campaign, because of the focus the developments have. And we ask donors to give larger gifts," May said.
Elite public universities, on average, receive less donations than elite private universities.
For example, the top fundraiser among private universities in 2011 was Stanford, which raised $709 million. That year the top public fundraiser, the University of California at Los Angeles, raised $415 million— Both universities were in the midst of fundraising campaigns and are located in the same state.
Yet donor support is vital for public schools in an era of decreasing state appropriations.
"The great public universities of the U.S. are the ones that, 20, 30 or 40 years ago, were foresighted enough to say state support is going down, we've got to start raising money because otherwise we could have the potential to become a mediocre institution," said May, adding that the university is on target to launch its next campaign in late fall of 2013.
Determining goals
Choosing a focus and a fundraising goal is a delicate undertaking.
The focus must resonate with donors and the goal has to be achievable, yet a stretch from the ordinary. Surpassing fundraising goals within a set campaign time, as U-M did in 2008, is rare. Many other schools, such as Cornell University, Columbia University and the University of Virginia, have needed to extend campaign end-dates in order to achieve goals.
The goals also make a statement about the university. Stanford, for example, completed the largest fundraising drive in higher education history in 2011, at $6.2 billion, nearly $2 billion more than the school's original goal. To date, Stanford's haul hasn't been matched and the school remains the envy of its peers in the fundraising arena.
The University of Virginia, on the other had, struggled mightily to meet the $3 billion fundraising goal it set in a campaign launched in 2004. The campaign was $400 million short of its target at the end of 2011, when it was scheduled to close. The university extended the drive, but the unmet goal was a high-profile miss.
"There's competition out there and like anybody in fundraising we're competitive people," May said. Setting a goal, he added, isn't as simple as determining a figure.
"If you don't start with what the need is and what you're trying to accomplish, then you're raising money for hollow reasons and donors know this," he continued. "You've got to have ideas first."
The ideas U-M is centering its upcoming campaign around include supporting global, real-world experiences for students, increasing scholarship support and funding for cross-collaboration between units. The school has also considered raising funds for a new cancer center (funds from the Michigan Difference campaign contributed to the new $754 million C.S. Mott Children's Hospital & Von Voigtlander Women's Hospital that opened in 2011).
The Michigan Difference earned $519 million for student support and Coleman said the upcoming campaign "will have to do better."
"All of us agree that this next campaign will have very aggressive goals for student aid," Coleman said.
Building blocks of a campaign
The success of a major capital campaign depends in part on a school's ability to attract large donors. For example, Stephen M. Ross donated $100 million to the business school during the Michigan Difference, leading to one of the most impressive buildings on the Ann Arbor campus.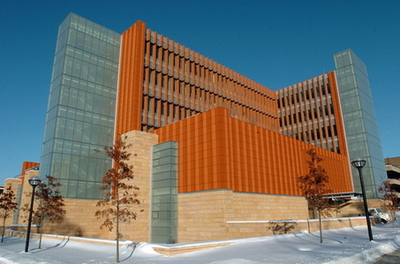 File photo | AnnArbor.com
While the fruits of those relationships materialize during the campaign, they're the result of years of relationship building that begins before the campaign starts.
"He had this long-term relationship," May said of Ross. "[There was] lots of giving over a period of time."
Oftentimes a donor will give the university moderate sums of money before bestowing a large gift. This allows donors to test the stewardship of the university.
"There has to be a matching vision between the academic leader — often the dean or the president or both — and the donor," May explained. "In Steve's case, the former business dean, Bob Dolen, had a vision for the facilities and group study rooms.
It's a long process."
U-M has 40 annual gift officers and 175 officers and directors who handle major gifts above $100,000. The average tenure of a major gift officer is 7.8 years and the average tenure of a fundraiser that handles gifts of $2 million and above is 9.4 years.
According to U-M's salary database, the average salary for a major gift officer is $87,600.
As the school gears up for the campaign, it also begins to identify donors who will not only give financially, but who will be willing to lead the drive as well. For example, donors who commit to give more than $5 million are often given a title and asked to solicit their friends and host campaign events.
Penny W. Stamps, whose family recently awarded the School of Art and Design $32.5 million, chaired the Michigan Difference.
But not all donors are wealthy. Roughly 365,000 people contributed to the Michigan Difference, and the vast majority of them gave small gifts. In fact, one of the biggest successes of a campaign is the increase in annual giving universities often see after a campaign.
During a campaign annual givers may increase their yearly pledge — say from $50 to $100 — and not reduce it when the drive is over. Thus the campaign increases the threshold for thousands of donors.
"You stay at that level until the next big ask," explained Judith Malcom, director of executive communications for U-M Development.
Kellie Woodhouse covers higher education for AnnArbor.com. Reach her at kelliewoodhouse@annarbor.com or 734-623-4602 and follow her on twitter.