Posted on
Sat, Jul 6, 2013 : 5:57 a.m.
University of Michigan graduate opens free oral health care clinic in Uganda
By Chelsea Hoedl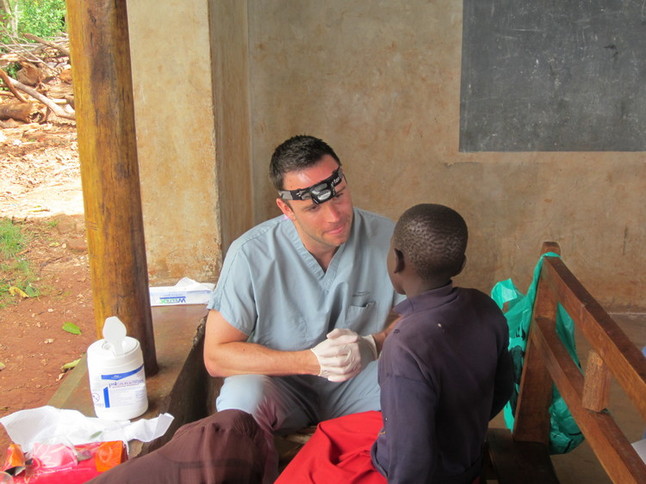 Courtesy of Ryan Shinska.
At a church in Uganda in 2012, University of Michigan Dental School graduate Ryan Shinska listened as the preacher asked if there were any U-M fans present. Shinska was in Uganda that day as a part of an outreach program. He and a team of dentists traveled to provide care to Ugandan children and to educate them about dental hygiene.
"He didn't know I was there or that I was from Michigan," Shinska said. "It was completely random. There were a lot of random things like that, which led me to where I am now. All these crazy, inexplicable things in my life got me over to Uganda, and are sending me back now."
Shinska, who graduated from the dental school in 2005, will return to Uganda on July 24 to provide children with accessible dental care, connect with communities throughout the country and enable Ugandans to provide oral health care services to their own communities.
"There's a tremendous need there and I've been given the tools and resources to make something happen," Shinska said.
The clinic, Hope Smiles Uganda, will be located in Jinja, one of the largest towns in Uganda. Shinska, the leader and coordinator of the clinic will employ two assistants, a secretary and a driver who also will act as a translator.
Shinska's team also will be comprised entirely of native Ugandans. He hopes this help to connect with the community and more successfully give locals the tools to provide basic oral care in the future.
"I just want to provide the same kind of care that you see here in the states and empower locals to provide that care as well," Shinska said. "I don't think where you are born should determine what kind of health care you receive."
Shinska said ultimately he hopes to create a dental school to train Ugandans to provide basic oral care for their villages.
"Even in inner cities in the states there is access to care," Shinska said. "It may be difficult to obtain, but it's just a matter of connecting with the city, whereas in Uganda, there are literally no dentists for people to see."
Shinska said he wants communities around the world to have the ability to provide oral care and hopes he can encourage and enable Ugandans to deliver care within communities.
"It's about empowering people," Shinska said. "It's not about people thinking they have all the answers when really they just have all the resources."
Dental issues have been shown to have several a person's overall health and can create major health issues reaching outside the mouth, according Shinska, so children receiving regular check-ups and proper education about how to take care of their teeth is extremely important.
Shinska will partner with NGOs and ministries in order to provide children with proper dental care. Initially, Shinska will care for about 3,500 kids, but he plans to work with other communities after he establishes more connections in the country.
"I hope to partner with different villages," Shinska said. "For the most part I'll be seeing kids in Jinja, but it's important to connect with outside communities and provide care wherever I can."
All of Shinska's equipment will be portable, so traveling to unreached communities will not arise as an issue.
Hope Smiles Uganda is raising money to pay for the tools and equipment needed to provide care to children in Jinja as well as children in surrounding communities. Shinska set the fundraising goal at $50,000 and already has raised more than $32,000.
"Right now I'm focusing on fundraising and spending time with friends before I leave," Shinska said. "All of the travel plans are taken care of and there are a lot of things I can't do until I get there, like find a place to live or get a driver's license."
Shinska said he will be staying in Uganda indefinitely.
"It could be two or three years, or it could be 30 or 40," Shinska said. "I'm leaning towards 30 or 40 because I think it's going to work. It really depends on finances and eventually obtaining grants."
After Shinska's visit to Uganda in 2012 and his return trip in January 2013, he said he has been in touch with a lot of people in the area and is looking forward to using his education and resources to help those who need it.
The biggest challenge for any health care provider is connecting with the community, Shinska said.
"It's about making sure you're learning the culture and understanding what they struggle with and what they dream about every day," Shinska said.
Chelsea Hoedl is an intern reporter for AnnArbor.com. She can be reached at choedl@mlive.com.