Posted on
Thu, Sep 16, 2010 : 6:03 a.m.
How much does the average University of Michigan, Eastern Michigan University graduate owe in loans?
By David Jesse
Christine Tolbert figures she and her husband could get out and enjoy more of Chicago's nightlife if they weren't working to pay off more than $45,000 in student debt.
Tolbert, a 2007 University of Michigan graduate, still owes more than $18,000 on the loans she took out to finance her education.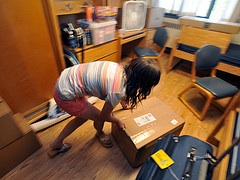 "It's a trade-off," she said. "I got a really good education that got me a good job, and I'm going to end up making good money. But on the other hand, it sucks to get those bills every month. Really limits the money we have to spend on other things."
Data released by the federal government show leaving the University of Michigan with tens of thousands of dollars of debt isn't a unique situation.
According to the data, the median level of debt for Michigan graduates as they enter repayment is $20,458.
That puts U-M with the fifth-highest median level of debt among fellow Big 10 conference schools. The top school is Indiana University, with a median debt of $25,766, according to the federal data.
The same data shows the median debt for Eastern Michigan University students is $17,075. That's the second highest level among Mid-American Conference schools.
The average of the median debt level for the nearly 8,500 colleges and universities listed was $11,141.
The figures were released as part of a large data collection by the U.S. Department of Education in its efforts to create new rules for for-profit colleges.
There's little debate the cost of college has been climbing. And while university officials across the country have been touting increased financial aid packages, student debt has also been climbing, various experts have said.
An informal AnnArbor.com poll of 15 U-M students studying on campus Wednesday afternoon showed 13 of them were getting what they called "significant" financial aid packages. Of those, nine said they still anticipated graduating with college loans to be paid.
RELATED CONTENT
"I think it's more a big deal for my mom right now than it is for me right now," second-year student Jamal Meadows said. "I think it will hit me when I start to get the bills in a few years."
Pamela Fowler, U-M's executive director of the Office of Financial Aid, said U-M's average resident institutional grant aid has increased in each of the last several years. For the 2008-09 school year, the university averaged $6,289 in aid per student, she said. That increased to $6,849 the next school year and is running at about $7,274 for this school year.
Tuition at U-M is just over $12,000 a year, depending on the college a student attends. Living in a residence hall will add between $8,000 and $12,000 to the bill, according to the university's website.
Just as the cost of tuition can vary depending on the school a student enrolls in, so can the debt level.
For example, the federal data shows the median debt for a student from U-M's law school is $43,149, and from the medical school is $41,115.
At EMU, 75 percent of the students received some form of aid in 2009-10, said Cynthia Van Pelt, director of EMU's Office of Financial Aid. That includes various grant programs, private scholarships and work study, among others, she said.
"For a high need (Pell Grant eligible) student, our goal is to provide between 30 percent and 53 percent of the cost of attendance in grant and scholarship funding, depending on their year in school, where they live while in school and their academic strength. We also award work-study and then student loans to meet the remainder of their need," Van Pelt said.
The aid package is weighing heavily on Mark O'Connell's mind as he and his wife get ready to send their two high school daughters off to college soon.
"We've set aside money for them, but it's not enough to cover the whole cost," the Ann Arbor resident said. "We've already talked about the cost of college and loans and how much they (the loans) can weigh you down after you graduate. But it's their decision. I think they'll make a good decision."
David Jesse covers higher education for AnnArbor.com. He can be reached at davidjesse@annarbor.com or at 734-623-2534.