Posted on
Fri, Jun 28, 2013 : 6 p.m.
U-M among universities nationwide with slowest rates of increased costs
By Chelsea Hoedl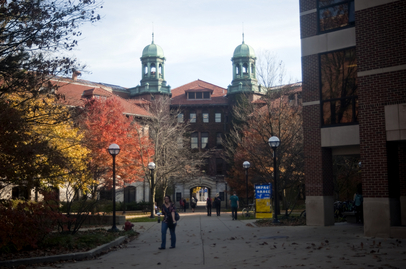 According to the new federal college affordability ranking released by the United States Department of Education Thursday, the University of Michigan has one of the nation's slowest rates of growth in net costs among four-year public universities.
The university dropped lower in three of the four categories of the 2013 College Affordability and Transparency Lists, which is good news — lower on the list means more affordable for students.
This year, the University of Michigan was ranked 600th out of 640 public four-year universities for percentage increase in net price. This is an improvement from last year's ranking of 568th.
Net price reflects cost minus financial aid, Associate Director at U-M's Office of Public Affairs and Internal Communications Rick Fitzgerald said.
"The most significant ranking for us is the percentage increase in net price," Fitzgerald said. "We're among the lowest, which is really important because it reflects the university's strategic increase in the amount of financial aid it offers."
Ranked as 52nd for overall tuition and fees, the university saw an improvement from last year's ranking of 49th.
Improvement also was seen in the university's net-price ranking, falling to number 114 this year from number 77 last year.
Percentage increase in tuition and fees was the only category where the university did not see an improvement. Last year the ranking was 520th, but this year the university moved up in the rankings to 481st.
For the 3rd year in a row, U-M is among the lowest in the four-year public university transparency and affordability rankings.
"We think the affordability rankings underscore the point that the university has been very aggressively boosting financial aid, which drives down the net costs," Fitzgerald said. "The results show that our effort to make college more affordable for more of our students is working. Seventy percent of in-state undergraduates receive some form of financial aid, so this is something that affects a large portion of our students."
Chelsea Hoedl is an intern reporter for AnnArbor.com. She can be reached at choedl@mlive.com.