Posted on
Fri, Jan 15, 2010 : 5:30 p.m.
University of Michigan Health System, medical and public health students lending support to Haiti
By Tina Reed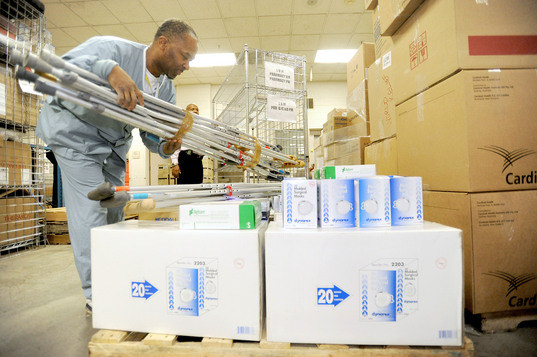 Angela Cesere | AnnArbor.com
University of Michigan emergency medicine resident Sacha Montas grew up in New York but spent much of his time throughout the years visiting family in Port Au Prince, Haiti.
Within the next few days, Montas will be embarking on a much different visit to those family members as he lends his medical expertise in response to the humanitarian crisis developing in Haiti following an earthquake Tuesday.
The Survival Flight doctor is organizing a group of medical professionals who are arranging to fly to Haiti on a private jet with supplies to fix as many broken bones and open wounds as they can.
He is expecting the worst.
In a phone call, his father told him the medical clinic where his mother - who is a nurse - and one surgeon were treating between 50 and 100 injured people was nearly out of medical supplies. And because hospitals in the area were destroyed in the earthquake, they are working out of a makeshift clinic.
Montas' parents had coincidentally flown to Haiti the morning of the quake. Montas said he is still not sure where he will be working or how long he'll be in Haiti.
"I think there is going to be a lot of orthopedic injuries, a lot of fractures, a lot of crush injuries. ... We expect to see dehydration, open fractures that need antibiotics. Things mostly trauma related."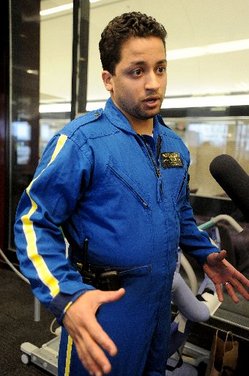 Dr. Sacha Montas, a flight physician for Survival Flight, talks about his upcoming trip to Haiti to bring relief aid from the University of Michigan Hospital in Ann Arbor. Angela J. Cesere | AnnArbor.com
He also said the medical team may see complications from crush injuries known as rhabdomyolysis, which can damage the kidneys and cause kidney failure.
Montas is one medical personnel of likely several who may travel from the U-M Health System as it looks for medical volunteers within its ranks to directly help people in Haiti following reports of mass casualties. This week, the American Red Cross estimated 45,000 to 50,000 people were killed and 3 million people - about a third of the population - were affected or injured. Reports from Haiti have described thousands of people displaced from their homes and growing increasingly frantic from shortages of medical treatment, food and water.
On Thursday, the health system announced it had quickly organized a team to piece together what resources the university could offer to help people in Haiti. That morning, about a dozen administrators, project managers and physicians gathered around a table full of papers brainstorming ideas about what the health system had to offer, said U-M Health System Chief Operating Officer Tony Denton.
The group was largely drawing on experience preparing for emergency situations like its pandemic preparedness plan that was revamped last year, he said. Among ideas were plans to send some of its medical personnel to Haiti and to offer its clinical facilities for use.
By Friday afternoon, at least 100 U-M volunteers had signed up. But U-M is still trying to figure out what volunteers are most needed, and that seems to largely be those with a medical background who have traveled internationally and might have some knowledge of the language, Denton said.
The health system also planned to distribute medicine and supplies to medical teams in Haiti.
Deep within the bowels of the U-M Hospital's basement, an area where laundry is sorted and patient meals are usually prepared, a collection of pallets was piled high with items like surgical masks, gloves, bandages and crutches Friday afternoon.
U-M usually sends out shipments of excess supplies like those about once a month to World Medical Relief, a non-profit organization based out of Detroit that collects medical supplies and distributes them to medical clinics in developing countries that need them.
But hospital staff sent out an e-mail this week asking departments to take another look at what could be considered excess. On Monday, hospital employees will drive the shipment out to the World Medical Relief organization with pallets filled with water, old sheets, bedding, washcloths and scrubs.
The organization is working to fill a 40-foot cargo container to ship out next week, said spokeswoman Josephine Jabara. Items from the hospitals, including bandages and medicine, surgical scissors and body bags, are crucial to the nonprofit organization's efforts, as these items will be important in the next stages of the medical response in Haiti, she said.
Part of U-M Health System's response also includes putting one of its Survival Flight aircraft, a Cessna Citation Encore Jet meant for medical emergency flights, on standby should it become useful.
That jet, U-M said, can be ready within two hours of a request with medical personnel - if not sooner, said Denise Landis, manager of critical care transport at U-M. The national association that Survival Flight is part of put out a call to all members across the U.S. asking what resources might be made available for sending medical supplies or personnel to and from Haiti. Survival Flight's jet is now considered by the Federal Emergency Management Agency, or FEMA, as a preferred provider.
Survival Flight uses Pentastar Aviation Charter for all flight operations. It is crewed by two airline transport pilots on every flight. The jet can fly approximately 500 miles per hour at 45,000 feet with outside air temperatures as low as -50 degrees celcius.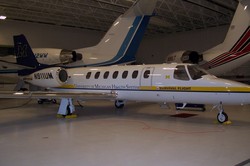 Photo courtesy | University of Michigan
Also this week, students from the Medical School and the School of Public Health held meetings about what their options were. On Thursday, some from the School of Public Health began coordinating a trip to Haiti during the week of U-M's spring break, which begins Feb. 27. Classes resume March 8.
In a statement released online, U-M president Mary Sue Coleman appealed to members of the university community to lend support to Haiti relief efforts.
"While we may feel helpless, there are, in fact, many ways for the Michigan community to make a difference in the lives of Haitians," Coleman said. "No gesture is too small, and I encourage you to support a charitable organization that is responding to this disaster."
Efforts at St. Joseph Mercy Health System to help are being led by its parent company, Trinity Health, which is based in Novi.
So far, Trinity Health has donated $100,000 to organizations that have volunteers on the ground, including Catholic Medical Mission Board, Catholic Relief Services and a medical group in Haiti from St. Joseph Mercy's sister hospital in Idaho called Project Haiti, said Kevin DiCola, a spokesman for Trinity Health. The health system is waiting to hear more from these organizations about what is needed before offering further resources, he said.
Locally, schools and businesses have also announced they are holding fundraisers to gather money to help efforts in Haiti. One of those businesses, the Palm Palace chain of restaurants, announced it would donate 20 percent of it's sale proceeds on Monday, Jan. 18, to the American Red Cross International Relief Fund.
Montas said he hopes people offer what support they can to various fundraisers. While his aunt and uncle with whom he will be staying are OK, other loved ones are still unaccounted for. He said he's glad he can do something to help, he said.
"I went into emergency care because I wanted to take care of people for a lot of reasons, people that end up in the safety net, people who are acutely injured. That's why I went into this field specifically," Montas said. "But certainly this is probably the most acute (situation) I'm ever going to see in my career going down to Haiti right now. And so for me, it's meaningful in and of itself and obviously, it's a lot more meaningful as someone who has spent a lot of his childhood in Haiti and still has a lot of family members there."
Tina Reed covers health and the environment for AnnArbor.com. You can reach her at tinareed@annarbor.com, call her at 734-623-2535 or find her on Twitter @TreedinAA.