Posted on
Sat, Feb 18, 2012 : 5:59 a.m.
University of Michigan Hospital officials didn't forward report on 'suspicious death' to police 4 years ago
By Lee Higgins
University of Michigan Hospital officials didn't forward a report on a "suspicious death" of a patient to university police in 2008, prompting police to investigate a hospital security captain for obstruction of justice.
No charges were filed against the captain or anyone else, the Washtenaw County Prosecutor's Office said in response to a Freedom of Information Act request filed by AnnArbor.com.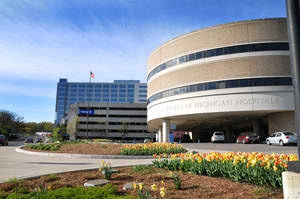 AnnArbor.com reported in January that university officials waited 6 months to report it to police after child porn was found last May on a thumb drive left in the Pediatric Emergency Department at U-M Hospital. The Board of Regents on Thursday ordered an external review of that case, less than a week after the university released an internal review, saying an outside expert would be brought in to help make changes.
U-M regents also expressed concern about the blurred lines between hospital security and university police.
Search warrant affidavits in the 2008 case show that the child porn incident wasn't the first time hospital officials - including security - failed to contact police after a crime was alleged. The case centers around the Dec. 11, 2007 death of 79-year-old Dorothy Porterfield, who was being treated at the hospital for an aggressive form of lung cancer.
When she was found dead at 3:27 a.m. on the general care floor of the hospital, an affidavit says, her tracheostomy tube "had been removed and was on the floor." One of her daughters was in the room, sleeping. Officials at the Washtenaw County Medical Examiner's Office told AnnArbor.com that they weren't contacted when Porterfield died. Her death certificate listed the cause of death as cancer.
The family paid for an independent autopsy that found the cause of death was asphyxiation "due to the dislodgement of the tracheostomy tube." Cancer was listed as a contributing factor and there were no physical injuries. However, without a police investigation, the doctor who conducted the autopsy couldn't determine the manner of death because it was "unclear how the tracheostomy tube was dislodged."
Suspecting foul play possibly by a hospital employee, a family member "requested to file a police report" and filed a report with hospital security on Feb. 24, 2008. "The report was not forwarded to the U-M police," an affidavit says.
University of Michigan spokesman Rick Fitzgerald said Friday there was no indication of foul play in the death.
"Loss of trach tubes is not unusual and this patient had been documented as pulling at her tube earlier in her care," he said. Fitzgerald said he didn't know how the trach tube ended up on the floor, but the hospital reviewed the incident and found that the patient likely pulled out the tube. An affidavit says it was found across the room.
"We don't know how it was removed because it happened apparently in the middle of the night between visits by the nursing staff," Fitzgerald said.
On April 11, 2008, about a month-and-a-half after filing a report with security, family members met with university police to report that they believed Porterfield died under suspicious circumstances.
Police interviewed a coordinator of autopsy and forensic services at the hospital, who wasn't aware of the case. After reviewing patient notes on the case, she "expressed surprise" to police that the notes showed that "the tracheostomy tube was found not by the patient's bed but across the room," an affidavit says.
Police also interviewed a U-M Hospital Risk Management employee who was investigating, but hadn't completed a report. She told police she "thought the death was suspicious," noting that the only person in the room at the time was a family member. She told police that after she consulted with the security captain, she decided that it wasn't necessary to report it to police, an affidavit says.
Police also spoke to a security sergeant in charge of supervising the security report that was filed and asked why he didn't have an officer write a police report. He told police that he spoke with the security captain, expressing his concerns and the concerns of the Risk Management employee about not filing a police report.
The security captain "told him it was not necessary to write a police report; it was being handled," an affidavit says.
Investigators asked the security captain why he hadn't "directed Hospital Risk Management to report a suspicious death to the police." He told police that Risk Management "did not call him right away," an affidavit says, and "he understood that the patient had pulled out her own trach tube."
Police asked why he didn't make sure police were contacted after the family requested that a police report be filed, but he said he wasn't aware of that request.
Investigators executed search warrants on the security captain's computer and email account, seizing some documents and other items. AnnArbor.com has filed a Freedom of Information Act request with the university, seeking a copy of the police report. Prosecutors said they no longer have a file on the case because the records were purged.
Fitzgerald said Washtenaw County Medical Examiner Bader Cassin was consulted by police in June of 2008, roughly seven months after the death occurred. Cassin reviewed the independent autopsy and some of Porterfield's medical records and didn't support the view that asphyxiation as a result of removal of the trach was the cause of death, Fitzgerald said.
While prosecutors declined to charge the security captain with obstruction of justice, they criticized hospital security, Fitzgerald said. The family's attorney made a claim of medical malpractice, the hospital offered compensation and the family accepted it, Fitzgerald said. The hospital's review found that the patient was probably moved out of intensive care prematurely, he said. Fitzgerald said he didn't know whether changes were made at the hospital after the incident.
"This case, and all the types of clinical situations that hospital security is often called to assist with, will be shared with outside experts we will be engaging to review the protocols and reporting procedures between hospital security and DPS," he said.
Lee Higgins covers crime and courts for AnnArbor.com. He can be reached by phone at (734) 623-2527 and email at leehiggins@annarbor.com.