Posted on
Wed, Dec 1, 2010 : 1:15 p.m.
University of Michigan hospitals recognized for excellence in patient safety
By Juliana Keeping
University of Michigan hospitals received kudos this week from a national organization that tracks hospital safety.
Leapfrog, a decade-old national non-profit, gave UMHS its top honor at an anniversary meeting in Washington, D.C. Tuesday evening.
The U-M Health System was among 53 institutions to receive a "Top Hospitals" recognition from a national pool of 1,200 that self-reported Leapfrog's safety survey this year, said Melissa Danforth, director of communications and membership for the organization.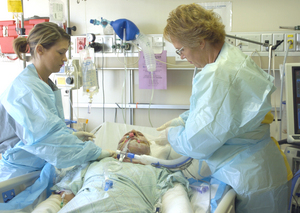 Asked what stood out about UMHS, Danforth noted the institution's computerized physician order entry technology, which allows doctors and other prescribers to order medication electronically, reducing the likelihood for things like drug interaction.
UMHS implemented its CareLink system 2008. U-M CareLink allows technicians, nurses and physicians to order lab tests, medications and nutrition online, ridding the need for paper forms and reducing room for error that can result from multiple hand-offs and hand-written orders.
Patient safety issues have been a top priority at UMHS for a decade. Darrell Campbell Jr., chief medical officer of U-M hospitals, leads the patient safety program.
Recent strides made in patient safety include reduced medication errors, improved hygiene by clinical staff, required flu shots for clinical staff and a 40 percent reduction in infections at the site of surgical procedures, Campbell noted in a release.
Leapfrog is funded by its members, Danforth said. In Michigan, that includes businesses like GM and organizations such as the Michigan Health and Safety Coalition.
Other institutions to receive the "Top Hospital" kudos in Michigan include Huron Valley Sinai Hospital in Commerce Charter Township, Harper-Hutzel Hospital in Detroit and Detroit Receiving Hospital and Health Care Center.
Juliana Keeping is a health and environment reporter for AnnArbor.com. Reach her at julianakeeping@annarbor.com or 734-623-2528. Follow Juliana Keeping on Twitter