University of Michigan introduces bag checks and metal detectors to beef up security at regents meetings
Posted on Thu, Sep 13, 2012 : 8:08 a.m.
Visitors attending University of Michigan Board of Regents meetings will now have to pass through a metal detector and have their bags checked upon entry.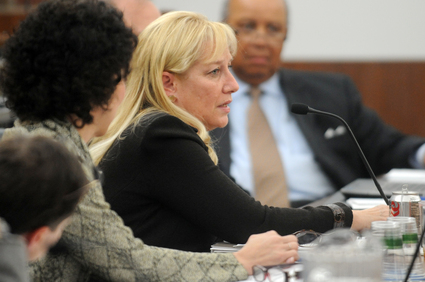 Melanie Maxwell I AnnArbor.com
The changes are part of an effort to beef up security at the monthly regents meetings.
"Given the heightened awareness across the nation to security issues — and as part of our ongoing effort to enhance safety on campus — we believe this is the prudent thing to do," said U-M spokesman Rick Fitzgerald.
Fitzgerald said the change is "not a response to a specific threat" but instead a recommendation from U-M's Department of Public Safety.
Fitzgerald declined to offer specific reasons for DPS' recommendation: "We wouldn't talk about specific security recommendations because then they don't become very secure."
The screening follows a decision to move regent meetings from their somewhat cramped meeting room in the school's administration building to larger rooms in the Michigan Union, a change the school also made in an effort to tighten security.
It also follows a decision to add uniformed police officers to the meetings. In past years meetings were regularly attended by plain-clothed officers. When the meetings moved to the union, uniformed officers also began attending the meetings.
"That was an additional layer of security." Fitzgerald said. "We moved to a much more public space and we wanted to have those officers there."
Items including weapons, self-defense sprays, knives, sticks, poles and noise-making devices will be prohibited. University police will carry out the bag checks.
Cell phones, laptops and large metal items must be removed before walking through the metal detector, but attendees will not have to empty their pockets of change or remove jewelry.
The public Board of Regents meetings are attended by the school's eight regents and several top administrative officials of U-M's academic body and the health system. At the meetings, the regents make large financial, academic and property decisions for the school, such as setting the tuition rate or approving a multimillion dollar construction project.
Fitzgerald said there has been no "specific trend toward more people" attending regents meetings now than in past years.
The new security procedures will be introduced at the upcoming Sept. 20 regents meeting scheduled for 4 p.m. in the Anderson Room of Michigan Union.

View Regents in a larger map