Posted on
Thu, Oct 14, 2010 : 6:03 a.m.
University of Michigan marks 50th anniversary of Peace Corps founding
By David Jesse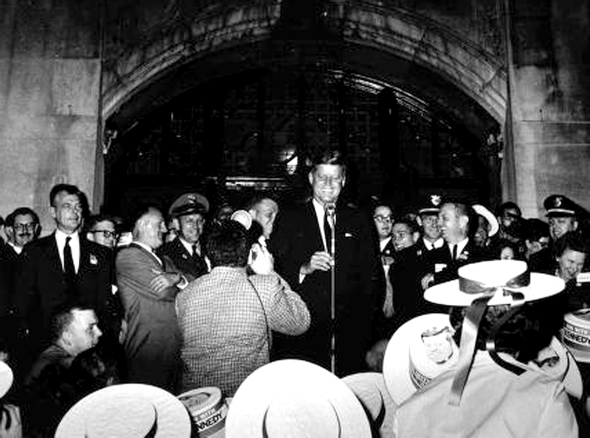 When Peter Batra heard his colleague in the cubicle next to him calculating how many more paychecks he needed for a new VCR and a newer model car, Batra knew it was time for a change.
"I was looking for something more to life than getting up, going to work, going to bed and doing it again the next day," he said.
That desire led Batra to the Peace Corps, and then to Fiji from 1993 to 1995.
Batra, who currently works for the University of Michigan's Institute for Social Research, is among the thousands of Peace Corps volunteers who have served around the world since John F. Kennedy stood on the steps of the Michigan Union 50 years ago today and spoke about the ideals that led to the creation of the organization.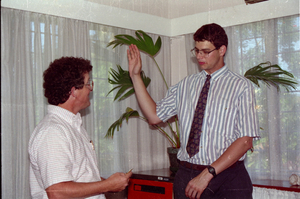 The university was set to cap a celebration of the anniversary of that speech with two high-profile events today.
The first ceremony took place at 2 a.m. today, the exact time Kennedy delivered his speech. At 11 a.m., another ceremony is scheduled to remember the moment. A multitude of federal officials and others connected to the Peace Corps are in town for the celebration.
U-M boasts more than 2,300 graduates who have served with the Peace Corps, university officials said.
The past
Lynn Marks was among the thousands of U-M students and Ann Arbor residents who gathered outside the Michigan Union late Oct. 13, 1960, waiting to see and perhaps hear from presidential candidate John F. Kennedy.
"The crowd just kept growing," said Marks, now a Grand Rapids resident. "We were all pressed in pretty tight."
Kennedy appeared at 2 a.m. and decided to say a few words. He drew loud cheers with his opening line.
"I want to express my thanks to you, as a graduate of the Michigan of the East, Harvard University," he said, according to a transcript of the speech.
He went on to call the upcoming election the most important in the nation since 1933.
He then challenged the students.
"How many of you who are going to be doctors are willing to spend your days in Ghana? Technicians or engineers, how many of you are willing to work in the Foreign Service and spend your lives traveling around the world? On your willingness to do that, not merely to serve one year or two years in the service, but on your willingness to contribute part of your life to this country, I think will depend the answer whether a free society can compete," he said. "I think it can. And I think Americans are willing to contribute. But the effort must be far greater than we have ever made in the past.
"Therefore, I am delighted to come to Michigan, to this university, because unless we have those resources in this school, unless you comprehend the nature of what is being asked of you, this country can't possibly move through the next 10 years in a period of relative strength."
Marks remembers being challenged by the speech.
"Lots of my friends were talking about what he said as we left," Marks said. "There was a lot of buzz about him and what he had talked about."
In the following days, U-M students signed petitions saying they were willing to serve.
About two weeks after that speech, Kennedy formally proposed the formation of the Peace Corps in a speech in San Francisco. Two days before the election, a group of U-M students delivered the petitions to Kennedy during a campaign stop in Toledo.
After being elected, Kennedy created the Peace Corps on March 1, 1961.
"It might still be just an idea but for the affirmative response of those Michigan students and faculty," wrote Sargent Shriver, JFK's brother-in-law and the Peace Corps' first director. "Possibly Kennedy would have tried it once on some other occasion, but without a strong popular response he would have concluded the idea was impractical or premature. That probably would have ended it then and there. Instead it was almost a case of spontaneous combustion."
The present
Today, Peace Corps volunteers serve in 77 countries in Africa, Asia, the Caribbean, Central and South America, Europe, and the Middle East.
They live, learn, and work with a community overseas for 27 months, providing technical assistance in six program areas — education, youth and community development, health, business and information and communications technology, agriculture, and environment.
After graduating from U-M this year, Kelsey Kennedy was ready to give back. So she and her husband, Nate Gire, a 2009 U-M graduate, signed up for the Peace Corps.
The couple is in Peru, training and living with a host family. They spend their mornings in language training and the afternoons in a variety of training sessions.
"After graduating from the University of Michigan, we wanted to apply what we learned to do something real and on the ground level," Kennedy said in an e-mail from Peru. "The Peace Corps attracted us because of their focus on integrating into a community and investing in the lives of host families, friends, and neighbors.
"We hope that in our service we will be able to take a facilitator role rather than a leadership role. We want to support people in shaping their own ideas and lives, especially among those groups who have been treated as incapable of self-advancement in the past."
They're learning about the culture and history of Peru, they wrote on a blog they're keeping chronicling their Peace Corps time.
Lauren Anthony has been back from her time in Togo since 2008.
"I saw PC as an opportunity to see a different part of the world in an up close and personal way," she said. "I loved the idea of learning about and submersing myself into another culture."
Anthony got a chance to see that different culture when her parents came to visit her in Togo.
"My village and I welcomed them with a 'funeral' — without a deceased individual, since this was the only kind of party the people in my village knew how to throw," she said. "We danced and ate and had an amazing time. I felt the love my village had for me and realized how close I'd become to them. It was a great culmination of my two years."
The future
While much of the celebration at U-M centers around reflecting on the past 50 years, Peace Corps Director Aaron S. Williams closed the day-long National Symposium: The Future of International Service on Wednesday by looking ahead.
"That question (referring to Kennedy's speech on the steps of the Michigan Union) ignited a movement. It was a very daring question," he said. "What began in Ann Arbor would change America and change the way the world views America.
"The dream that was born here in Michigan lives on. This is a thrilling time to be a part of the Peace Corp. We will continue to grow.
"Although we've come a long way from 1960, our work is not done. We don't want to retreat into history. It's a timeless idea, as vibrant today as it was in 1960. This bold experiment that is called the Peace Corps still calls us to action."
David Jesse covers higher education for AnnArbor.com. He can be reached at davidjesse@annarbor.com or at 734-623-2534.