Posted on
Thu, Sep 2, 2010 : 10:15 p.m.
University of Michigan officially welcomes class of 2014 to campus
By David Jesse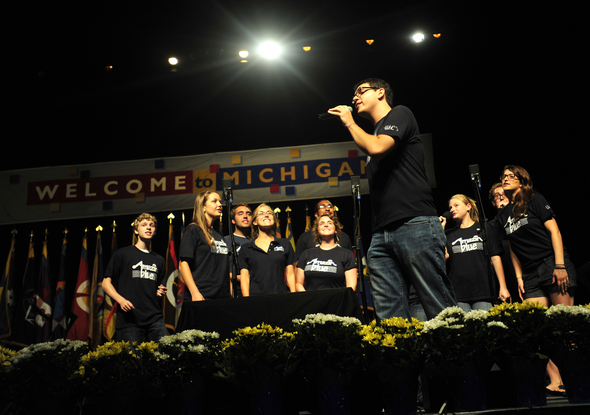 Melanie Maxwell I AnnArbor.com
Editor's Note: This story was updated to clarify the number of applicants coming from various states.

They heard the names of famous alumni.
They were reminded about the depth and breadth of the academic excellence.
They got a crack at singing "The Yellow and Blue."

They were challenged to look for opportunities for service.
But most of all, the class of 2014 at the University of Michigan was welcomed to the campus and reminded that they too are now part of Michigan's tradition of excellence.
More than 5,000 students and parents sweated through an hour-long new student convocation Thursday night at Crisler Arena, listening to speakers ranging from Christopher Armstrong, the president of the Michigan Student Assembly to Mary Sue Coleman, the president of the university.
Melanie Maxwell I AnnArbor.com
A record 32,000 applicants asked to be part of the class of 2014, said Theodore Spencer, the associate vice provost and executive director of undergraduate admissions. Of those, about 6,000 were accepted to be part of the freshman class.
Of the 32,000 applicants, 22,000 came from out of state. Of the applicants, more than 2,000 came from California, more than 500 from Texas and 30 from "the newest Big Ten state" Nebraska, Spencer said.
The class has an average grade point average of 3.8, with about 13 percent of the incoming class pulling down a perfect 4.0 GPA.
Thirty percent of the incoming freshmen had an ACT composite score of between 31 and 36. A score of 36 on the ACT is considered perfect. Across the nation, 4 percent of those taking the ACT scored between 31 and 36.
Phil Hanlon, U-M's provost executive vice president for academic affairs, told the new students and many of their parents that they'll have plenty of opportunities to apply those smarts in the classroom and in various research settings.
But repeatedly, the speakers reminded those in attendance that more was needed than just attending class.
"This place is best for you when it is experienced," said Ed Rothman, the chair of the Senate Advisory Committee on University Affairs and a professor of statistics. "Engagement in learning is no an option."
Classes start on Tuesday.
David Jesse covers higher education for AnnArbor.com. He can be reached at davidjesse@annarbor.com or at 734-623-2534.