Posted on
Wed, Apr 14, 2010 : 6:01 a.m.
University of Michigan officials want to equip students to 'go out and save the world'
By Ryan J. Stanton
In the coming years, University of Michigan students are expected to increasingly be equipped to serve as mindful stewards of the world in which they live.
Terry Alexander, executive director of U-M's new Office of Campus Sustainability, said university officials are hard at work creating standards and setting goals for making campus operations greener and more sustainable.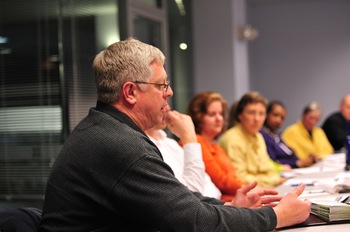 Ryan J. Stanton | AnnArbor.com
Those plans complement efforts focused on changing attitudes on campus and establishing a culture of energy and water conservation.
"We can do a lot of things operationally, but what we're really doing is we're touching 40,000 students a year and that's really the nucleus," Alexander said. "If we can teach those students just a little bit about sustainability, they're the ones that are going to go out there and fix the world. We can fix things locally, but they're going to go out and save the world."
Alexander joined a roomful of Ann Arbor city officials Tuesday night for a special working session on the topic of sustainability. The meeting brought together members of the city's Planning Commission, Energy Commission and Environmental Commission, all of which will be working together in the coming months on a long-range vision for a sustainable Ann Arbor.
"What we're talking about is trying to come up with a common understanding of what we mean by 'sustainability' so that that can be used not just at the commission level, but also at City Council level as we develop policies and practices for the city," said Steve Bean, chairman of the Environmental Commission.
"Sustainability means working with a balance between economic vitality, environmental quality and social equity — that we give consideration equally to all of those," he said. "And if we're not achieving a balance between them, we could be leaving something behind and not moving forward as a community."
With the University of Michigan being such a dominant presence in Ann Arbor, it's expected the campus will be a player in the sustainability game.
U-M has reported it spends between $110 million and $120 million per year on energy. About 45 percent of that is generated at U-M's natural gas facility the Central Power Plant, and the rest is purchased from DTE Energy, which largely uses coal-fired power plants.
U-M President Mary Sue Coleman is fully behind new initiatives to make the campus greener and more sustainable, according to Alexander.
"Basically, in her mind, she wants to turn the campus into, No. 1, a world-class leader on sustainability," he said. "And No. 2, kind of a living learning environment for students so that when students come to the campus, they come there not only to learn their academic stuff and social stuff, but also what does it mean to be a green citizen — to walk on campus and live in a building and be sustainable from an energy and a water and a recycling standpoint?"
U-M has set up an organizational structure through which the university will be encouraging sustainability in the curriculum taught to students. It also will try to recruit more academic and research professionals with backgrounds in sustainability. 
Meanwhile, goal-setting efforts from an operational standpoint continue.
Ryan J. Stanton | AnnArbor.com
"What we're trying to do is come up with four to five goals over this year that are going to really make the campus change how they think about things," Alexander said. "We're reaching out to the entire campus, and basically we've set up seven teams and each team has a different aspect that they're looking at."
Those teams are focused around energy, building systems, land and water, purchasing and recycling, food, transportation, and overall campus culture.
Mayor John Hieftje, who serves on the city's Energy Commission, voiced support at Tuesday's meeting for a regional approach to creating a sustainable future around Ann Arbor — not just inside the city limits.
"As we move into the next few years, I think the regional aspect is going to become more important in just about everything we do," Hieftje said, mentioning the belt of city-protected agricultural land forming around Ann Arbor as an example. "Certainly the greenbelt is a big part of sustainability. It preserves agriculture forever in this community, and we've made some changes to make sure that it is addressing local agriculture in the way of moving from commodity into food crops for the local market."
Wayne Appleyard, chairman of the Energy Commission, reminded city officials that energy is a big component of sustainability.
"Energy has a pretty big role to play because it's unfortunately responsible for a lot of the environmental ills that we have, and it's certainly a big drain on people's economic situation," Appleyard said. "So trying to move to renewables as quickly as possible and trying to do as much energy efficiency as we can is really important."
Hieftje previously set a goal for the entire city to get 20 percent of its energy from renewable sources by 2015.
"It's 20 percent of the entire community's energy — heat, transportation and electricity — provided by renewables," Appleyard said. "We have five years left. Not a lot of time, but a lot can happen. Certainly things like what's happening with motor vehicles — the move to electric vehicles and plug-in hybrids — may make a huge difference."
Hieftje agreed consideration needs to be given to transportation as the city looks toward its future and how it fits with the surrounding region.
"I've been pushing along with others in the city for rail connections for a long time. That certainly makes a huge difference," he said. "Ann Arbor is a big employer. Folks over at the Washtenaw Area Transportation Study tell me 70,000 people a day drive here to work. If you look at the SEMCOG predictions for jobs that are going to be in Ann Arbor for the next couple of decades, you get up into the many thousands, and do we want all those people to drive here or are we going to continue to work on other ways?"
Bonnie Bona, Planning Commission chairwoman, referenced an article she read in the New Yorker in 2004 that made the argument that Manhattan — in large part due to its high-rising density and low reliance on fossil fuels — was the greenest community in the nation. She said the article got her thinking about sustainability.
"When we think about renewable energy, where does that energy come from?" she pondered. "I mean, you can't put enough solar panels or wind turbines on the roof of a 20-story building to generate energy for the entire building. And I've heard speculation in Ann Arbor about, if you put geothermal in the ground, how much heat can you generate from that? There's speculation it may be four stories, it may be five. It's not 10."
As the city plans for a sustainable tomorrow, Bona said it will be important to look at the issue from a land use perspective and talk about height and density.
"Are we talking about a building on its own site? Does it have to generate enough renewable energy on this site?" she said. "Or do we say downtown can be tall because we have park space or parking lots or parking structures that can have solar panels? Or do we say it's regional, so we can have wind turbines out in the fields?"
Bean said he was excited to have the three groups come together Tuesday night to jointly discuss the issue of sustainability.
"We got good feedback," he said. "And I think it's the beginning of probably a long community conversation about sustainability and what opportunities we have to make this city a better place to live — in a way that we can continue into the future. We've been working for 10 years to get to this point and it's real exciting now to be kind of launching into that next level of really comprehensive approach, and examination and exploration of issues that we face and how to address them beyond just the environmental impacts."
Ryan J. Stanton covers government for AnnArbor.com. Reach him at ryanstanton@annarbor.com or 734-623-2529.