Posted on
Wed, Oct 26, 2011 : 5:58 a.m.
U-M's Fulbright success due to 'a lot of prep'
By Kellie Woodhouse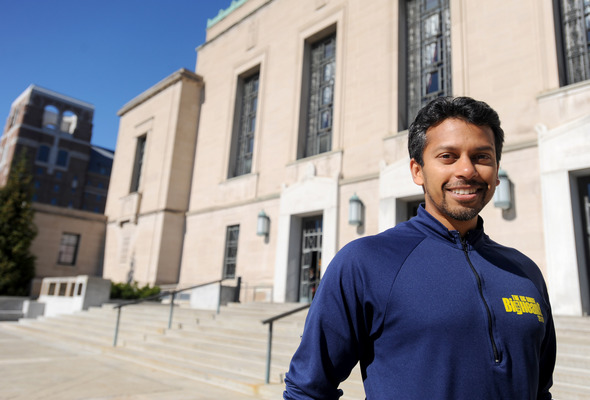 Angela J. Cesere | AnnArbor.com
University of Michigan Ph.D student Rohit Setty wrote 16 drafts of his Fulbright application before submitting it last September.
The Washington, D.C., native estimates he spent 500 hours working on the application, in addition to the hours he spent doing research and coursework and teaching classes as a graduate professional.
"There's definitely a lot of prep that goes into it before anything transpires," the 34-year-old said. "One of my boyhood dreams was to get this."
The dream came true.
Setty was one of 29 U-M students to receive a 2011 Fulbright student grant. He begins in January.
U-M outpaced all other universities in the number of Fulbright grants its students received. Behind the Ann Arbor university was Northwestern University, with 27 grants, Yale University, with 26 grants and University of Chicago with 25.
This year marks the fifth year since 2005 that U-M has been the top producer of Fulbright students. The university also has the second-highest number of applicants. With 148 applicants this year, U-M was seconded only by the University of Chicago, which has 151 applicants.
The Fulbright website calls the program "the most widely recognized and prestigious international exchange program in the world."
The U.S. Department of State awarded 1,700 grants this year. The process to gain one of those spots is highly competitive and can be grueling.
Fewer than 20 percent of U-M applicants were accepted.
"It can be several months of forming the application but, in the end, it depends on the work that the student puts in how much it pays off," said Kelly Peckens, one of two university employees who help students with their applications.
One of the reasons for U-M's high level of Fulbright grants is because of the university's willingness to help applicants, said Ken Kollman, director of the U-M International Institute.
"We have very active faculty involvement in giving feedback on applications and in helping to interview candidates," Kollman said. "We assist our students in these kind of international opportunities… so they can be very competitive in the national stage."
The institute forms two to four member panels composed of faculty and staff that review each student's application.
In Setty's case, a French historian, an anthropologist and a faculty member from the School of Education spent approximately 40 minutes with the Fulbright hopeful to help work out any kinks in his application.
"That was a really amazingly helpful conversation," Setty said. "They game me some tips and then I went back and revised."
The university also shows students past applications that have been successful.
U-M's 29 Fulbright students will be dispersed throughout 25 different countries, including Turkey, Taiwan and the Republic of Congo.
"We have a Marine veteran going to Norway to do engineering projects, we have someone going to China to study economic inequality," said Kollman. "People just go really all over."
But while U-M remains at the top of the list, it received 10 fewer Fulbright student grants this year than last year, when it received 39.
The decrease is due to severe cuts in the federally funded program.
Kollman said the funding reduction doesn't bode well for the future of the program.
"One thing to reflect on is just how important it is for the country as a whole to promote knowledge of.. foreign countries and connections with foreign countries," he said. "It's a shame that the budget times require cuts in these programs, in the long run it will be costly to the country."
Kellie Woodhouse covers higher education for AnnArbor.com. Reach her at kelliewoodhouse@annarbor.com or 734-623-4602 and follow her on twitter.