Posted on
Tue, Sep 4, 2012 : 5:59 a.m.
University of Michigan to break ground this fall on $29M expansion of Institute for Social Research
By Ryan J. Stanton
The University of Michigan is planning to break ground this fall on construction of a $29 million addition to the Division Street side of its Institute for Social Research building.
The project website, last updated on Aug. 13, describes it as a five-level, 56,700-square-foot addition (four levels above grade). Construction is expected to last through early 2014.
The university mailed notices to neighbors this past week, inviting them to a meeting where construction logistics, schedule and other information about the project will be shared.
The meeting takes place at 6 p.m. Sept. 13 on the sixth floor of the ISR building — specifically in conference room 6050.
U-M describes its decades-old Institute for Social Research as the oldest and largest academic survey and social research organization in the world.
With an annual budget of more than $80 million, it supports the research of more than 250 scientists from 20 disciplines, including psychology, business, economics, public health, demography, statistics, and engineering. Its studies provide data on voting behavior, teen drug and alcohol use, consumer confidence, the health and economic status of black Americans, and other topics.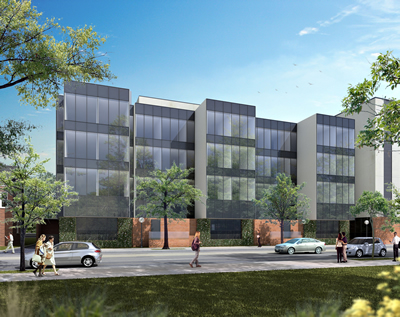 Courtesy of University of Michigan
Expansion of the institute's facilities is expected to increase the capacity of its research facilities to support large and growing externally-funded research programs.
U-M officials say it will enhance research effectiveness by integrating research programs within a single building complex, and provide state-of-the-art facilities for communicating with national and international research partners.
The main entrance to the building is on Thompson Street, just south of downtown Ann Arbor between William and Jefferson streets. The building stretches the length of the block west to Division Street, and the addition primarily is oriented toward the Division Street side.
The building is located close to a number of rental houses on Division and Thompson that are occupied by both undergraduate and graduate students, as well as young professionals.
U-M spokesman Jim Kosteva said the upcoming meeting will provide an opportunity to address any questions about the potential impacts the project might have on the neighborhood.
He said construction could last up to 18 months and include temporary sidewalk closures on Division Street. While it might include closing off a parking lane, no road closures are expected.
"We hope that the project can move along appropriately and be as minimally disruptive to the area neighbors as possible," Kosteva said.
Kosteva didn't have more specific information on Saturday about exactly when the project would start.
The U-M Board of Regents initially voted in 2010 to approve designs for a 44,700-square-foot, four-level addition and 7,200 square feet worth of renovations costing $23 million.
The board voted earlier this year to revise the scope of the project, making it a 56,700-square-foot addition, primarily through construction of one additional floor, and upping the area of renovations to include 12,800 square feet of the existing building where it will connect to the addition.
Timothy Slottow, U-M's chief financial officer, said in a July memo to the Board of Regents the new research space is needed to address the institute's continued growth in programs and projects, including a significant increase in federally funded initiatives. The expansion will create office and research spaces, collaborative meeting spaces, and secure data and biospecimen storage.
Funding for the construction project is being provided by an American Recovery and Reinvestment Act of 2009 grant from the National Institutes of Health and resources from the Office of the Provost and Institute for Social Research, Slottow wrote in the July memo.
Ryan J. Stanton covers government and politics for AnnArbor.com. Reach him at ryanstanton@annarbor.com or 734-623-2529. You also can follow him on Twitter or subscribe to AnnArbor.com's email newsletters.