Posted on
Mon, Sep 12, 2011 : 2:59 p.m.
University of Michigan poll: Parents in the dark about teens' marijuana, alcohol use
By Juliana Keeping
Alcohol and marijuana?
Not my kids.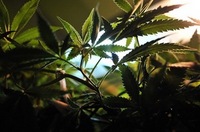 That's the common attitude of parents, according to a recent poll by the C.S.
Mott Children's Hospital National Poll on Children's Health.
Ten percent of parents think their 13 to 17 year olds have taken a drink in the last year, while 5 percent guess their teens have used marijuana.
That's not what the teenagers say.
Fifty-two percent of 10th-grade students have had alcohol within the past year and 28 percent of them have used marijuana, according to the latest results from Monitoring the Future, a separate, long-term study of values and behaviors of American teenagers and young adults by the U-M Institute for Social Research. Each year, the study surveys 50,000 eighth, 10th and 12th grade students on their behaviors.
The latest Children's Health poll includes findings from a May 2011 poll of 667 parents.
The poll suggests parents may be overestimating drug and alcohol use in other peoples' children at the same time they underestimate their own teens' drug and alcohol use. The poll found parents believe 40 percent of 10th graders used marijuana and 60 percent had alcohol within the past year.
What does it all mean?
Matthew Davis, M.D., the director of the poll and a U-M professor, said in a news release the results of the poll show the value of public educational campaigns about teen substance abuse. The campaigns should reach out to teens and parents to encourage better communication, he said.
What can be done?
Bernard Biermann, a U-M psychiatry professor and the medical director of child/adolescent inpatient psychiatry unit at U-M, suggested several ways for parents to talk about and monitor substance use with teenagers.
His tips include:
When discussing substance abuse with your teenager, talk with them in a nonthreatening way.
Look for signs of substance abuse when teens come home.
Don't overreact if there is a single instance of substance use. Biermann instead suggests using the opportunity to discuss the incident in a nonjudgmental way and making yourself a resource for resisting peer pressure.

Open the lines of communication with your teenager's friends and their parents, who may be more willing to share information than your teenager.
Educate yourself with resources such the National Institute on Drug Abuse (NIDA). The resource contains information about common symptoms and signs of substance abuse.
.
We were all teenagers once. What did, or didn't, work for you when it comes to marijuana and alcohol use? Parents, what do you think of the suggestions offered up in this article regarding teenagers and the use of marijuana and alcohol? Leave a comment and take our poll below.
Juliana Keeping covers general assignment and health and the environment for AnnArbor.com. Reach her at julianakeeping@annarbor.com or 734-623-2528. Follow Juliana Keeping on Twitter