Posted on
Fri, Feb 18, 2011 : 5:05 p.m.
University of Michigan President Mary Sue Coleman: 'We understand' that cuts are necessary
By Nathan Bomey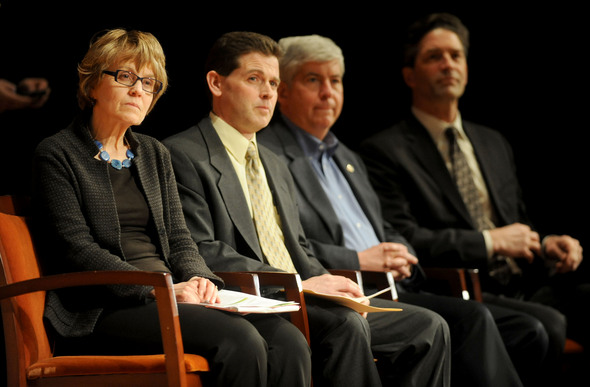 Angela Cesere | AnnArbor.com
University of Michigan
President
Mary Sue Coleman
sounded a conciliatory note on
higher education budget cuts
proposed Thursday by Gov.
Rick Snyder
.
Coleman, who sat a seat away from Snyder this afternoon at the Michigan Clean Energy Prize Competition awards ceremony in Ann Arbor, told AnnArbor.com after the event that she "understood that there has to be sacrifice."
Snyder proposed a 15 percent cut to public universities. If the state Legislature adopts that level of cuts, it would likely lead to tuition increases — though Snyder's budget would include $83 million in extra funding for universities that keep tuition increases below the state's five-year average.
"We're still analyzing everything, but we understand. We want to be partners," Coleman said in an interview. "We want to be good partners with the state because we believe, like he does, in a better future."
Coleman said she was not surprised at the level of cuts Snyder proposed.
"No, no. I mean, I can look at the numbers, I can look at the revenue and I just have realized that it takes a brave governor to tackle every little piece of it, and that's what he's trying to do," she said. "We need to get our financial house in order in this state."
Eastern Michigan University President Susan Martin yesterday expressed disappointment with Snyder's proposal, which would cut about $15 million from EMU's budget.
"This is significant," Martin said. "We will work on it. Overall, I was disappointed in the size of the cut. It's very difficult to handle with what we've been trying to do in investing in our academic quality and our facilities."
Cynthia Wilbanks, U-M's vice president for governmental relations, said a 15 percent decline would lower the state aid to U-M to approximately $268 million — which would "be the lowest amount of appropriation in 20 years."
Contact AnnArbor.com's Nathan Bomey at (734) 623-2587 or nathanbomey@annarbor.com. You can also follow him on Twitter or subscribe to AnnArbor.com's newsletters.