Posted on
Fri, Jan 8, 2010 : 4:09 p.m.
University of Michigan Professor Emeritus J. David Singer's goal was to quantify war in order to stop it
By Suzy Sherman
University of Michigan Professor Emeritus J. David Singer aimed to quantify the causes of war scientifically in the hopes of eliminating war altogether.

"As kids growing up, that was all we talked about - how awful war was," daughter Annie Singer said. "And how that was why he was devoting his work to getting rid of it."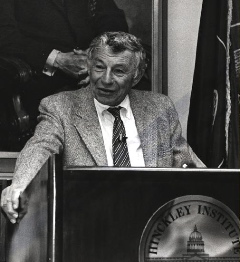 Singer, 84, a globally recognized scholar of international politics, died Dec. 28 in Ann Arbor. He was involved in an auto accident on Sept. 22 and had been hospitalized since. 
At the time of his death, Singer was a professor emeritus at U-M, where he'd been on the faculty from 1958 until retiring in 2002.
"He was involved in many peace efforts personally," Annie Singer said, "but his academic success was his applied methodology."
Singer is best known as founder of the Correlates of War (COW) Project, dedicated to the systematic accumulation of scientific knowledge about interstate and civil military conflict. It had its genesis in a 1963 grant from the Carnegie Corporation to U-M's Center for Research on Conflict Resolution, a portion of which went to Singer and for the study of war.

Singer and his associate, historian Melvin Small, generated the project's first database, which described the frequency, participants, duration and battle deaths of all wars since 1816. Subsequent data sets included diplomatic ties, geographic proximity, territorial changes, intergovernmental organizations, civil wars and the military, economic and demographic dimensions of power. 
Singer's goal was to produce generalizations about the conditions associated with the onset and seriousness of war coded by specific variables. An influential book came out of the COW Project in 1972, The Wages of War, which established a standard definition of war that has guided the research of hundreds of scholars.
"That project wrote the book on how to do more rigorous research on conflicts. The project still exists to this day, and everyone is looking at it now," Annie Singer said.
Singer's larger and more visionary goal, however, was to generate explanatory knowledge about the causes of war that could, in practice, be applied to the purpose of eliminating it. Over the years, Singer repeatedly expressed his hope that scientifically derived knowledge on war would be used by government leaders to produce better policy and minimize human suffering.
The data his research produced is still used today by the U.S. Department of Defense and other military organizations, his daughter said.
Daniel Geller, professor and chair of the political science at Wayne State University, said Singer's passing is a loss to the academic world and the greater community. Geller co-authored a book with Singer in 1998 titled "Nations at War."
"He not only provided a basic understanding of international conflict," Geller said. "He also created a means of sophisticated quantitative analysis that has been used by government analysts in the design of foreign policy for the last several decades."Â Â 
Born in Brooklyn on Dec. 7, 1925, his 16th birthday saw the bombing of Pearl Harbor. Singer enlisted in the U.S. Navy two years later. He served as a deck officer on the USS Missouri at the end of World War II and on the USS Newport News during the Korean War. 

He received his undergraduate degree from Duke University in 1946, and his PhD from New York University in 1956. Singer also served as consultant to the U.S. Department of State, Department of Defense, Department of the Navy, and most recently, to the U.S. Strategic Command 2010 Nuclear Posture Review.  
During his years at U-M, he received numerous grants from the National Science Foundation, the Carnegie Foundation, the Guggenheim Foundation, the World Society Foundation, and the US Institute for Peace.
"His students for almost 50 years just adored him," Annie Singer said. "He was one of the finest advisors and mentors ever."
Singer is survived by his wife, Diane Macaulay of Ann Arbor, his daughters Annie Singer of Washington, D.C. and Katie Singer of Montclair, N.J., and his two grandchildren, Kayla and Jake Ephros of Montclair, N.J.
A public memorial service is being planned for the spring in Ann Arbor.