Posted on
Wed, Oct 5, 2011 : 10:02 a.m.
University of Michigan promises $50M toward increased focus on global challenges and communities
By Kellie Woodhouse
University of Michigan President Mary Sue Coleman announced a new $50 million initiative to widen university teaching and hands-on projects dealing with global challenges and communities.
The Third Century Initiative will be used to fund projects dealing with climate change, poverty, malnutrition, energy storage and social justice challenges throughout the world. Coleman added that the initiative will expand the university's "action-based immersive learning" and give students the "skills and experiences the need to be leaders."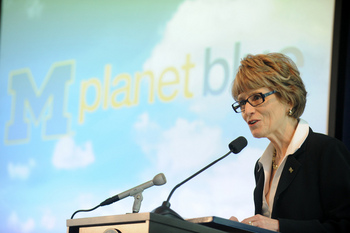 Angela Cesere | AnnArbor.com
At a speech given Wednesday morning at the Ross School of Business in Ann Arbor, Coleman said the university already has received several pitches from faculty and staff on ways to use the money.
Projects, she said, could range from creating solar powered energy in a developing African nation to researching affordable health care.
"We want to stimulate innovation and support the most promising ideas," she said. "We believe the teaching, research and service that grow out of the initiative will propel the university into its next 100 years with enormous momentum and secure Michigan's future position as the world's leading public research university."
The money, Coleman said, will come from already existing funds from many of the university's 19 colleges.
"This money comes from our ability to be efficient," Coleman said. "We don't have any big infusion of new money."
Coleman acknowledged the $50 million sum was large.
"Even though it's a lot of money, big problems require a lot of money," Coleman said. "This may end up being a seed for much larger gifts that happen. I hope so."
U-M Provost Philip Hanlon said U-M is still determining how to allocate the funds.
"With this amount of money there's going to be multiple mechanisms for allocating funds," he said. "We have to figure out how to get funds to the best ideas."
Coleman also announced a new funding endeavor for U-M startups.
Kellie Woodhouse covers higher education for AnnArbor.com. Reach her at kelliewoodhouse@annarbor.com or 734-623-4602 and follow her on twitter.