Posted on
Wed, Feb 10, 2010 : 11:31 a.m.
University of Michigan Regent, Detroit businesswoman Denise Ilitch not running for governor
By Juliana Keeping
University of Michigan Regent and Detroit businesswoman Denise Ilitch will not run for governor, she said in a statement released today.
Ilitch, a Democrat, said a compressed election year schedule wouldn't allow for the kind of campaign she felt was necessary, the Detroit Free Press reported.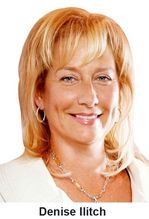 "And that stubborn fact is the one and only reason why I am not running for governor today," Ilitch said in the written statement. The announcement ended weeks of speculation about whether Ilitch would enter the race.
The list of candidates so far includes: Democrats state Rep. Alma Wheeler Smith and Lansing Mayor Virg Bernero, and Republicans Attorney General Mike Cox, Oakland County Sheriff Mike Bouchard, U.S. Rep. Peter Hoekstra, Ann Arbor businessman Rick Snyder and state Sen. Tom George.