Posted on
Wed, Apr 17, 2013 : 3:18 p.m.
University of Michigan regent Mark Bernstein to host a Twitter Town Hall
By Kellie Woodhouse
Since his election in November, University of Michigan regent Mark Bernstein has spoken before U-M's student government, toured campus with students campaigning for union renovations, guest taught a class and now he's hosting a town hall on Twitter.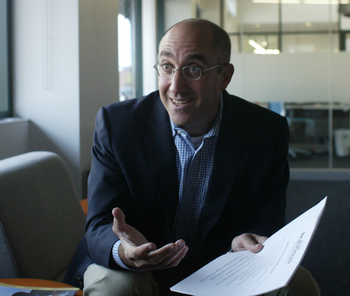 MLive photo
The regent will take students' questions via Twitter beginning at 7 p.m.Wednesday. He'll be tweeting from the Fishbowl computing lab in the Angell Hall courtyard.
Individuals who have questions can tweet at him using his @mgobernstein Twitter handle or use the hashtag #askmark.
"I am a big believer in... connecting with students on their own terns, whether digitally through Twitter or Facebook or physically at the library or the Diag," Bernstein said.
Bernstein says he has purchased a meal card for U-M's dining halls so he can met students and discuss issues.
"I spend a ton of time on campus, and not just at athletic events," he said.
U-M Central Student Government president Manish Parikh suggested the idea for a Twitter question-and-answer forum to Bernstein, who was immediately on board.
Parikh called Bernstein a "students' regent" and said he "shows time and again his commitment to the student body and the issues we care about" by making himself available to students.
Bernstein, an Ann Arbor resident, and fellow regent Shuana Ryder Diggs were elected for 8-year terms on the eight-member governing board in November.
Kellie Woodhouse covers higher education for AnnArbor.com. Reach her at kelliewoodhouse@annarbor.com or 734-623-4602 and follow her on twitter.