Posted on
Mon, Apr 2, 2012 : 6:05 p.m.
University of Michigan Regents show continued support of GSRA's right to unionize
By Kellie Woodhouse
The University of Michigan Board of Regents voted 5-3 Monday to support a lawsuit filed by House Democrats contending that Republicans acted unconstitutionally in March when they passed a bill banning graduate researchers from unionizing and put it into immediate effect.
Graduate Students Research Assistants have been fighting for unionization for a year, but in early March House Republicans passed a measure rendering unionization illegal. While most bills have a 90-day waiting period before going to the governor's desk, the Republicans used a legislative maneuver to put the bill into effect immediately.
The immediate effect maneuver must be passed by two-thirds of House legislators. House Democrats sued the Republicans last week, saying that Republicans did not count votes properly to ensure a two-thirds majority.
During a special session Monday, regents voted to submit a brief in support of the Democrats' lawsuit, filed in Ingham County Circuit Court. A judge has granted a temporary restraining order on the bill and will review the Democrats' case in the coming weeks.
"The rules of due process were not followed," said Laurence B. Deitch, a Democratic regent.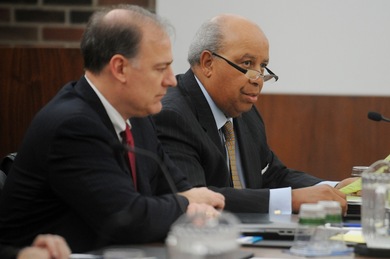 Melanie Maxwell | AnnArbor.com
Regent S. Martin Taylor proposed writing a legal brief in support of the Democrats' lawsuit. However, Regents Andrea Fischer Newman and Andrew C. Richner said they did not think it was the board's place to involve itself in legislative matters.
"We shouldn't be involved in legislative procedural issues," Newman said.
Richner added: "It's unprecedented and I think it will have long-term implications that we may regret. I think that this case goes well beyond (the GSRA unionization) issue and I don't think we should be taking a position."
Suellyn Scarnecchia, U-M's chief lawyer, said the action was unusual.
Regent Olivia P.Maynard, who voted in with regents in May 2011 to allow GSRAs to vote for a union, was the sole Democrat to vote against the motion.
"I've determined that it does no good," she said of intervening.
Kellie Woodhouse covers higher education for AnnArbor.com. Reach her at kelliewoodhouse@annarbor.com or 734-623-4602 and follow her on twitter.