Posted on
Mon, Jul 15, 2013 : 12:23 p.m.
University of Michigan regents to consider offering in-state tuition to military and unauthorized immigrants
By Kellie Woodhouse
This story has been updated.
The University of Michigan Board of Regents is considering revising its requirements for who can receive in-state tuition to include the military and students in the country without legal permission.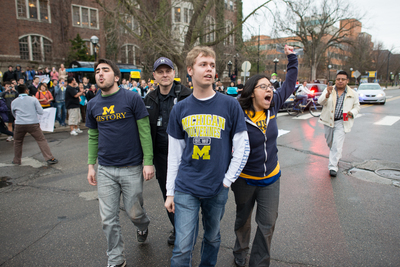 Under current guidelines, unauthorized immigrants who grew up in Michigan pay full freight for a U-M degree. U-M's residency requirement also has been criticized for making it difficult for veterans from Michigan to qualify for residency if they were stationed overseas for a long period of time.
The proposed change would not only allow service members from Michigan to receive in-state tuition, it would allow anyone who serves in the military or was honorably discharged, no matter their state of origin, to receive in-state tuition.
It would also allow unauthorized immigrants who attended middle and high school in Michigan to enter U-M paying the in-state rate, as long as they matriculated to the Ann Arbor school within 28 months of graduating high school.
The difference in in-state and out-of-state rates is steep.
U-M has one of the most expensive out-of-state tuition rates of public universities in the country. In the fall, students from Michigan will pay $13,142, while non-residents will pay $40,392.
U-M's Board of Regents will vote on the residency requirement change during a public meeting on Thursday at 3 p.m. held in the North Atrium of Building 18 at the North Campus Research Complex. The governing board is composed of six Democrats and two Republicans.
Hundreds of students have been advocating for what they call "tuition equality" for about two years.
"It's been a long time coming," said Javier Contreras, who said student student activism played a large role in the proposed change. Contreras, an unauthorized immigrant who began attending school in Ann Arbor in kindergarten, graduated from Skyline High School this fall and lobbied U-M for a change in its residency policy so he could afford to attend. He has since received a scholarship from Washtenaw Community College.
"When we called them out -that you're supposed to be the leaders and the best-... it sent a message that they didn't want to be associated with. It made them see 'Oh well, maybe there is something wrong with our policy.'"
Throughout the fall and winter a U-M task force compiled a report on tuition equality, benchmarking U-M to other schools and exploring the logistics and legality of such a policy. A group of administrators, including the provost and president, reviewed that report and crafted recommendations for the Board of Regents, which has the final say on the matter.
Supporters of tuition equality have rallied on the Diag and staged a sit-in at a Board of Regents meeting, saying current policies put U-M out of financial reach for most unauthorized immigrants who grew up in Michigan.
Eight people were arrested in April after blocking traffic during a rally for tuition equality outside the Michigan Union. The U-M-based Coalition for Tuition Equality has rallied at multiple Board of Regents meetings, with students also individually petitioning regents during the public comments section of open meetings.
"We're really happy that they decided to move forward," said Coalition representative Daniel Morales. "The policy will have minimal effect on undocumented student enrollment if it's not followed by the creation of a scholarship or grant program that gives undocumented students access to financial aid."
Statewide university systems in at least a dozen states, including Maryland, Massachusetts, Texas, New York and California, already offer forms of tuition equality. Unauthorized immigrants, however, are not eligible for federal student loans or grants.
Eastern Michigan University's Board of Regents in 2012 declined to offer in-state tuition for unauthorized immigrants. Western Michigan University students who can prove in-state residency are awarded in-state tuition, regardless of their citizenship status.
The proposed changes to what have been called residency guidelines represent the first comprehensive revisions since 2005. The changes would take effect in January 2014.
In each of the past two years, students have filed about 2,000 applications for resident classification on all three U-M campuses. According to U-M figures, nearly 80 percent of those were granted in-state tuition.
Kellie Woodhouse covers higher education for AnnArbor.com. Reach her at kelliewoodhouse@annarbor.com or 734-623-4602 and follow her on twitter.