Posted on
Mon, Mar 21, 2011 : 8:45 a.m.
University of Michigan research could lead to improved treatment for oral cancer patients
By Juliana Keeping
Researchers at the University of Michigan School of Dentistry have reason to pursue a theory that may help stop oral cancer from spreading.
Signs and symptoms of oral cancer
According to the Centers for Disease Control and Prevention, oral cancer can appear in the following ways:
A mouth sore that fails to heal or that bleeds easily
A white or red patch in the mouth that will not go away
A lump, thickening or soreness in the mouth, throat or tongue
Difficulty chewing or swallowing food
Though researchers have a long way to go to prove their theory in humans, they observed oral cancer cells in a petri dish acted differently when researchers stopped the cells from expressing a protein called Sirtuin-3. In that case, the cells did not proliferate and more of them died. Results compounded when those cells were exposed to chemotherapy and radiation, plus the inhibition of the protein. That also means patients whose bodies produce an abundance of Sirtuin-3 could be more likely to develop head and neck cancers.
Current methods used to treat oral cancers, like surgery, chemotherapy, and radiation, are disfiguring and costly. Each year, more than 8,000 people die and 30,000 are diagnosed with cancer of the pharynx or oral cavity, according to the Centers for Disease Control and Prevention.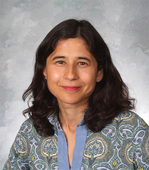 University of Michigan photo
The hope is future research will yield more specific treatment plans for patients suffering from aggressive forms of oral cancer that haven't spread to other parts of the body.
In mice injected with Sirtuin-3 inhibited oral cancer cells, tumors were reduced by 75 percent compared to those injected with standard cancer cells.
Yvonne Kapila, associate professor of dentistry and lead author of the study, said a University of Michigan researcher has developed a chemical better able to inhibit Sirtuin-3 than methods used with mice. Next steps include looking at the protein as it relates to oral cancers in larger animals and then proceeding to human trials. "Depending on the outcome of those studies, we'd like to try to get funding to go into a clinical trial as the data continues to be strong and support the study we've already published," Kapila said.
Early detection of oral cancer is key, because in its late stages, the cancer is very aggressive. Catching it early and tailoring treatments would increase the chance of survival, Kapila said. Often dentists catch oral cancer in patients. It commonly appears on the tongue or floor of the mouth, she said.
Kapila noted that every cancer case is different, and research does not yet offer a treatment plan.
The CDC recommends preventing high-risk behaviors behind oral cancer, like excessive cigarette, cigar or pipe smoking or use of alcohol, to decrease the likelihood of oral cancer, the eighth-most common cancer worldwide. Other risk factors for oral cancer include viral infections, immune deficiency, exposure to ultraviolet light or poor nutrition. According to the CDC, the five-year survival rate is 50 percent.
The findings are published online in the American Cancer Society's journal Cancer.
Juliana Keeping is a health and environment reporter for AnnArbor.com. Reach her at julianakeeping@annarbor.com or 734-623-2528. Follow Juliana Keeping on Twitter