Posted on
Mon, Aug 12, 2013 : 4:05 p.m.
University of Michigan research suggests inducing labor increases risk of autism
By Amy Biolchini
New findings by researchers at the University of Michigan suggest that women whose labor is induced or quickened may put their child at an increased risk for autism.
The finding enters an active field of research as the scientific community seeks answers to rising rates of autism in the U.S.
One in 88 children will have autism, according to the most recent data from the Centers for Disease Control and Prevention.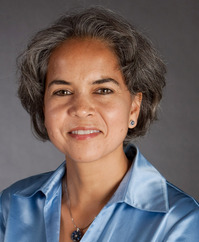 Courtesy of U-M
The study, conducted by researchers at U-M and
Duke Medicine
, used a large data set of 625,042 birth records.
Previous studies on the issue have used data sets of several hundred people—which sets U-M's new study apart, said Marie Lynn Miranda, a professor of environmental informatics and pediatrics at U-M and a lead study author. Miranda is also dean of U-M's School of Natural Resources and Environment.
The research made use of a database of medical records in North Carolina first compiled in 2005 when Miranda was a professor a Duke.
In the data set, 1.3 percent of male children and 0.4 percent of female children were autistic—which is consistent with national trends, Miranda said. Miranda said the difference between genders was statistically significant.
There is no equivalent database in Michigan, though researchers are trying to gain access to medical records to conduct similar studies, Miranda said.
A review of all births in North Carolina over an eight-year period revealed that among male children, there was a 35 percent higher risk for autism whose mothers had their labor induced and augmented.
Children diagnosed with autism were also more likely to have been in fetal distress during birth, the study found.
Although the research findings don't warrant a change in clinical practices regarding inducing or augmenting labor, Miranda said the study does make it important to pursue additional clinical research on the topic sooner rather than later.
Autism is a developmental disability that can cause social, communication and behavioral challenges.
Induced labor stimulates contractions before spontaneous labor occurs during childbirth. Augmented labor increases the strength, duration or frequency of contractions. Both types of stimulated labor can be prompted by medication or other techniques.
Miranda advised families of children with autism and prospective mothers to continue to discuss concerns or questions with their doctors, and to understand that the research findings don't recommend changes in clinical practice at this point.
Further research is needed to understand the causation behind the correlation, Miranda said.
"The scientific community has an obligation to families of children with autism to see if we can prevent cases in the future," Miranda said.
Amy Biolchini covers Washtenaw County, health and environmental issues for AnnArbor.com. Reach her at (734) 623-2552, amybiolchini@annarbor.com or on Twitter.