With poll:

University of Michigan research: Too much sanitizing might make allergies more likely for kids

Posted on Mon, Nov 29, 2010 : 11:17 a.m.
The hyper-sanitizing tendencies that have gripped American parents might make their children's allergies worse, according to new research from the University of Michigan School of Public Health.
"It is possible that a person can be too clean for their own good," Allison Aiello, an associate professor at the U-M School of Public Health and principal investigator on the study, said in a release.
U-M researchers studied triclosan, a chemical used in antibacterial soaps. It's also widely used in products like medical devices, toothpaste, pens and diaper bags. It isn't used in hand sanitizers, which are mostly alcohol-based
"One thing the triclosan findings may support is the 'hygiene hypothesis," said Erin Rees Clayton, a study author and a research investigator at the U-M School of Public Health.
That hypothesis suggests that living in an overly hygienic environment could actually hurt us, since exposure to certain microorganisms is beneficial for immune development, she said.
How does that relate to allergies?
Exposure to triclosan has the potential to change the microorganisms to which we're exposed. That change could throw off the delicate immune balance responsible for controlling allergic reaction.
Researchers also took a look at Bisphenol A (BPA), which is found in many plastic products, including the protective lining in food cans. Exposure to BPA may negatively affect the immune system, researchers found.
Both triclosan and BPA are considered endocrine-disrupting compounds (EDCs) — toxicants scientists believe mimic or affect hormones, negatively impacting human health.
Researchers wanted to see how exposure to the substances found in many common household products impacts the human immune system. According to Aiello, this is the first known human study to do so.
For the study, U-M researchers used data from the 2003 to 2006 National Health and Nutrition Examination Survey to compare urinary BPA and triclosan with antibody levels and diagnosis of hay fever or allergies in U.S. adults and children over 6.
The researchers examined the level of antibodies for cytomegalovirus (CMV), a common virus that doesn't appear to negatively impact health. But once a person is infected, they will carry CMV for life. An elevated level of CMV antibodies shows one's immune system is struggling to keep the virus under control, Clayton said.
"In healthy people, at least the current thinking is, it's (CMV) is not really causing any negative effects," Clayton said. "As we learn more about this virus, we may find out that's not the case."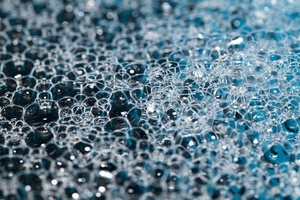 Photo courtesy of Keith Williamson
Among the study's findings:
People over age 18 with higher levels of BPA exposure also had higher CMV antibody levels. The finding suggests their cell-mediated immune system may not be functioning properly.
Timing of BPA exposure may affect the immune system response. Higher amounts of BPA were associated with higher CMV levels in those 18 and older. The reverse was true for those under 18.
Those 18 and under with higher levels of triclosan had a higher likelihood of suffering from allergies and hay fever.
Aiello called the report a good first step, but added long-term research is needed to establish a causal relationship between immune function and BPA and triclosan exposure.
The paper, "The Impact of Bisphenol A and Triclosan on Immune Parameters in the U.S. Population," appears online in Environmental Health Perspectives on Tuesday.