Posted on
Sat, Jul 27, 2013 : 5:57 a.m.
U-M researcher develops program to help families share cancer gene testing news
By Amy Biolchini
A researcher at the University of Michigan School of Nursing advocating for women to seek genetic testing who have a high risk of breast and ovarian cancer has developed a program to help people share the news with their families.
Maria Katapodi, an associate professor at the school, has developed a pilot program called the Family Gene Toolkit.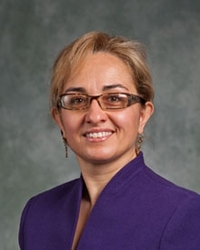 Courtesy of the U-M School of Nursing
"Only half of the high-risk relatives are being (genetically) tested when they're cancer-free," Katapodi said. "What's concerning to me the most is that everybody's affected by this, even the person who does not have the mutation. … My concern is the well-being of the family: it's a moment of crisis when you learn this is far bigger than a breast cancer diagnosis — which by itself is scary news to hear."
The program involves sessions with a genetic counselor and oncology nurse to discuss how and why to reveal the results of a positive genetic test result for the BRCA1 and BRCA2 mutations to family members, as well as which family members need to know.
Women that are found to be carriers of either of the two genetic mutations have a 50 to 80 percent chance of getting breast cancer, compared with 12 percent of women who don't carry the mutation, said Katapodi.
The genes are passed down from one generation to the next. Men can also be carriers of the gene. Other cancers are associated with the BRCA mutation as well: colon, prostate and pancreatic.
"Our goal is to help this mutation carrier talk with the family members and to help them figure out what it means to each person," Katapodi said.
Once a person learns they are a carrier of the BRCA genetic mutation, the people most likely to be informed are their nuclear family and those that have close emotional relationships with them.
"The people usually left out are distant relatives," Katapodi said, including people that geographically live far away.
As health care professionals don't have the authority to contact the relatives of patients, it's on the patient to tell their family that they're a genetic carrier for breast cancer.
Four out of five times that a woman seeks genetic testing it's because she has a breast cancer diagnosis, Katapodi said.
"For a woman diagnosed at age 31 or 32, the concern is to treat the disease immediately," Katapodi said, noting at that age, many women are planning their lives and careers. "When you have an immediate cancer diagnosis, all that goes away. You have no luxury to plan your life."
Katapodi is urging women to be tested earlier to give them time to be able to plan life events like getting married, having children and career moves.
"When you know beforehand, it is a burden, and some people say they'd rather not know," Katapodi said. "In my opinion, it's better to make some decisions when you're not in the hot seat."
Cancer treatment occurs now after the diagnosis is made. Katapodi wants to change that by promoting earlier testing for people that could be predisposed to getting cancer to see if they're genetic carriers of the BRCA mutation.
There's no way to predict whether a person will eventually get the cancer if they have the gene.
"Still, the person can make an informed decision," Katapodi said. "You give people the opportunity to choose."
Genetic testing can cost as much as $4,000. A recent Supreme Court case may result in a decrease of the cost in the future, as the court ruled that one company cannot be the sole holder of the patent for the testing, Katapodi said.
Katapodi is seeking families to participate in the pilot program that she's testing. A person in the family must have been identified as a carrier of either the BRCA1 or BRCA2 gene.
Families interested in The Family Gene Toolkit can contact Katapodi by email at mkatapo@umich.edu or by calling (734) 647-0178, or contact the Clinical Research Project Manager Kari Mendelsohn-Victor at karimend@umich.edu or (734) 615-4017.
Amy Biolchini covers Washtenaw County, health and environmental issues for AnnArbor.com. Reach her at (734) 623-2552, amybiolchini@annarbor.com or on Twitter.