Posted on
Thu, Dec 22, 2011 : 7:02 a.m.
Blame the fast food? U-M researcher says supersized economies drive obesity
By Kellie Woodhouse
A bustling free market economy gives you more choices. And more choices, according to a University of Michigan researcher, can lead to gluttony.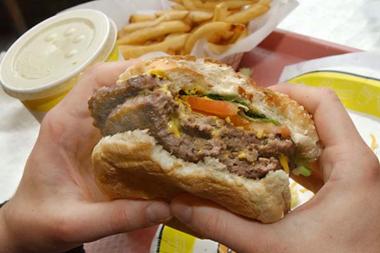 AP Photo
Obesity
rates in countries with supersized market economies, such as the
United States
and
Canada
, are much higher than those with restrictive trade policies, according to
Roberto De Vogli
, associate professor in the
U-M School of Public Health
.
The reason, he asserts, is the availability of fast food chains.
The number of unhealthy fast food options in places like the U.S. greatly outweigh the amount of fast food restaurants in more trade-restrictive nations like Japan.
"Those nations that apply more aggressive free market policies have both: More fast food restaurants and more obesity," Vogli said, explaining that the make-up of a nations economy is "a major driver of obesity."
The U.S. and Canada have more than seven fast food restaurants per 100,000 people, according to the report. They also have high obesity rates. In the U.S. 31.3 percent of men and 33.2 percent of women are obese. In Canada about 23 percent of the population is obese.
According to the report, other nations have significantly fewer fast food restaurants.
In Japan, which has relatively restrictive trade policies, about 3 percent of individuals are overweight.
There's also much fewer fast food restaurants. On average, there are 1.3 fast food restaurants per 1 million people.
In Norway, there are about two restaurants per 1 million individuals and the obesity rate is 6.4 percent for men and 5.9 percent for women.
Thus, Vogli asserts, obesity is not only the result of genetics and personal choices, but it also stems from the environment that surrounds you.
"The point here is to emphasize the global situation of the obesity epidemic," he said. "Most research is dedicated to look at genetics, behaviors or other types of factors, but here when we look at trends over time we can see… that there are global forces behind obesity."
Vogli and other prominent researchers assert that the U.S. is in the midst of a serious obesity epidemic. A study completed earlier this year found that obesity in the U.S. costs $270 billion per year. Michigan ranks as the 10th-fattest state in the country.
Several recent studies also indicate that obesity is starting earlier and earlier. According to one such study, 7 percent of boys and 5 percent of girls are extremely obese.
Kellie Woodhouse covers higher education for AnnArbor.com. Reach her at kelliewoodhouse@annarbor.com or 734-623-4602 and follow her on twitter.