Posted on
Thu, Jun 21, 2012 : 5:01 p.m.
University of Michigan raises tuition 2.8 percent for in-state undergraduates
By Kellie Woodhouse
University of Michigan resident undergraduates next year will experience their second-lowest tuition increase in a decade.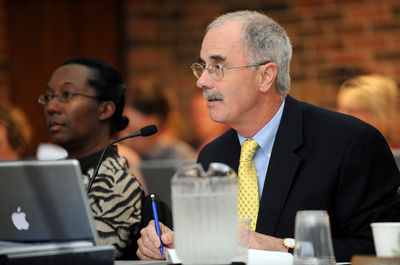 AnnArbor.com
The
Ann Arbor
school will raise resident undergraduate tuition and fees 2.8 percent next year, bringing the tab to nearly $13,000 for most freshmen and sophomores. The hike adds an additional $360 per year for most students.
However, resident tuition at the Stephen M. Ross School of Business will increase 4.7 percent for underclassmen and 6.2 percent for upperclassmen.
Tuition for non-residents will also increase, rising by 3.5 percent and reaching $39,122. The hike adds an additional $1,340 per year for must out-of-state students.
University Provost Phil Hanlon said that in an effort to increase diversity on campus, money raised by the increase will go directly to need-based aid for non-resident students.
"We've been increasingly concerned about the socioeconomic diversity of our non-resident students," Hanlon said.
Tuition for graduate students will increase an average of 3 percent.
Overall, the university expects tuition and fees to generate $1.16 billion in revenue.
The increase passed in a 5-3 vote by the Board of Regents Thursday. Board chair Denise Iitch, Laurence B. Deitch and Andrea Newman voted against the tuition increase.
"There's one thing that remains consistent on this topic and that is that tuition continues to skyrocket and the burden on our students gets to be brutal," Ilitch said. "At the end of the day, Michigan students continue to have to pay a constant premium to receive a Michigan education."
On-campus housing rates will increase 3 percent, bringing the total to $9,752 for a year. Two percent of the increase, which amounts in total to $284 per student in a standard double, will go toward ongoing residence hall renovations.
Resident tuition has increased 63 percent in 10 years. In 2003-04, tuition and fees were $7,975 for lower-division residents. Next year, they'll be $12,994.
The 2.8 percent increase is second only to a 1.5 percent increase two years ago. Last year's increase was 6.7 percent. The largest increase in the past decade was 12.34 percent in 2005-06.
Meanwhile, the school's general fund will grow by $62.1 million, reaching a record high of $1.65 billion.
University-backed financial aid also is at an all-time high, increasing to $144.8 million.
U-M officials calculate that over the course of 11 years, state appropriations to the school have decreased by $178 million, after adjusting for inflation.
In the early 1990s, tuition and state appropriations contributed equal portions to the school's budget. Today, tuition accounts for roughly 70 percent of the budget, whereas state funds contribute 17 percent.
As tuition increases, so does the school's financial aid awards. Since 2007-2008, U-M backed financial aid has increased 46.1 percent and is projected at $144.8 million. Aid goes mostly to students from low- and moderate-income families.
"Resident students with financial need will pay less to attend their university than their peers did eight years ago," U-M President Mary Sue Coleman said.
That's not true for mid- to low-income non-resident students, who have incurred price increases.
"(With) Non-residents' (tution), we've got a long ways to go," said Regent Julia Darlow.
Kellie Woodhouse covers higher education for AnnArbor.com. Reach her at kelliewoodhouse@annarbor.com or 734-623-4602 and follow her on twitter.