Posted on
Wed, Nov 21, 2012 : 10:08 a.m.
University of Michigan reviewing medical professor's involvement in insider trading case
By Amy Biolchini
Editor's note: This story was updated at 10:45 a.m. with additional background information.
The University of Michigan is carefully reviewing a medical professor's alleged involvement in an insider trading scheme after a civil suit was filed Tuesday by the U.S. Securities and Exchange Commission, according to a statement issued Wednesday by Pete Barkey, director of public relations for the University of Michigan Health System.
Dr. Sid Gilman is employed as a full professor in U-M's Department of Neurology, and was formerly chairman of the department from 1977 to 2004. He is currently the associate director of the Michigan Azheimer's Disease Research Center at U-M.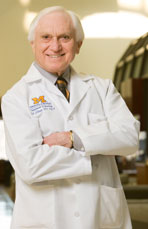 Courtesy U-M
Tuesday, Gilman was accused of providing a
Mathew Martoma
, a former portfolio manager at CR Intrinsic Investors, with information in advance of its public release about the outcomes of a clinical trial for an Alzheimer's drug that Gilman was overseeing between 2006 and 2008.
The information reportedly led to a trade of stocks before the clinical trial's public results release that netted investment advisers and hedge funds about $276 million in illegal profit and saved losses.
U.S. Attorney Preet Bharara said Martoma gained from "cultivating and corrupting" Gilman, eventually receiving $9 million in bonus pay for the year when the trades were made, the Associated Press reported.
Martoma met with the doctor about 42 times, beginning in the summer of 2006, and eventually convinced him to start talking about the drug trial, prosecutors said, according to the Associated Press report.
Update 10:45 a.m.: Gilman's lawyer, Marc Mukasey, has previously told The Associated Press his client is cooperating with the SEC and the US Attorney's Office, and has entered into a non-prosecution agreement with federal prosecutors.
Wednesday morning, Mukasey issued the following statement:
"We are thankful that the US Attorney's Office has decided not to charge Dr. Gilman with a crime nor to prosecute him. Dr. Gilman will continue to cooperate with the S.E.C. and the US Attorney's Office."
Mukasey is a top white-collar criminal defense lawyer and a partner at Bracewell & Giuliani. He specializes in crisis management, and has represented clients in many high-profile, complex cases.
Gilman is an Alzheimer's expert. He has served on countless advisory boards and is highly decorated. Before coming to the University of Michigan in 1977, Gilman was a neurology professor at Columbia University and at Harvard Medical School.
Additionally, Gilman has been a consultant for numerous pharmaceutical companies, including Merck, Johnson & Johnson, Elan/Wyeth Pharmaceuticals, Pfizer and GlaxoSmithKline. Gilman has been a member of the Gerson Lehrman Group Scientific Advisory Board since 2002.
A copy of the agreement released by federal prosecutors Tuesday showed that Gilman will forfeit nearly $187,000 that he received from Elan for consulting work in 2007 and 2008 and from an expert networking firm for consultations between 2006 and 2009 with Martoma's hedge fund, the Associated Press reported.
At the time the clinical trial research was being conducted, Gilman was working as a paid private consultant for an expert firm and was not acting on behalf of the University of Michigan.
Any action the University of Michigan takes in the matter will be in accordance with University policies, according to the statement issued Wednesday by Barkey.
"The University of Michigan has comprehensive guidelines in place to govern activity in both clinical trials and for University employees engaged in consulting work," Barkey said in the statement. "There is an ongoing legal process, and we recognize the importance of letting that process occur."
Amy Biolchini covers Washtenaw County, health and environmental issues for AnnArbor.com. Reach her at (734) 623-2552, amybiolchini@annarbor.com or on Twitter.