Posted on
Mon, Mar 29, 2010 : 9:43 a.m.
University of Michigan says tiny energy harvesters could capture vibrations to power devices
By AnnArbor.com Staff
They're called energy harvesters, and the University of Michigan says the tiny devices could generate enough electricity to power a watch, heart pacemaker or wireless sensor.
The Parametric Frequency Increased Generators are a creation of the Ann Arbor school's Engineering Research Center for Wireless Integrated Microsystems.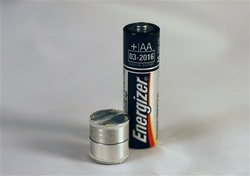 The generators "are highly efficient at providing renewable electrical power from arbitrary, non-periodic vibrations," school spokeswoman Nicole Casal Moore said in a story on Michigan's Web site.
"This type of vibration is a byproduct of traffic driving on bridges, machinery operating in factories and humans moving their limbs, for example," Moore said.
The creators are electrical engineering professor Khalil Najafi and doctoral student Tzeno Galchev.
According to Najafi, most similar devices have more limited capabilities because they need regular, predictable energy sources to run.
"The vast majority of environmental kinetic energy surrounding us everyday does not occur in periodic, repeatable patterns," he said in a statement. "Energy from traffic on a busy street or bridge or in a tunnel, and people walking up and down stairs, for example, cause vibrations that are non-periodic and occur at low frequencies.
"Our parametric generators are more efficient in these environments."
The fourth and latest prototype is one cubic centimeter and uses a material that produces charge when it is stressed.
The generators have shown they can make up to 0.5 milliwatts from typical human body vibration. The researchers said that's more than enough to run a watch or pacemaker.
"The ultimate goal is to enable various applications like remote wireless sensors and surgically implanted medical devices," Galchev said. "These are long lifetime applications where it is very costly to replace depleted batteries or, worse, to have to wire the sensors to a power source."