Posted on
Mon, May 14, 2012 : 2:59 p.m.
Connected vehicles: U-M seeking 3,000 Ann Arbor motorists for $18M wireless project to prevent collisions
By Kellie Woodhouse
Is there a future where vehicle crashes are drastically diminished?
That's the question the University of Michigan is seeking to answer as it launches an $18 million pilot program that will equip thousands of area cars, trucks and buses with devices that can communicate with one another and let drivers know if they're at risk of a collision.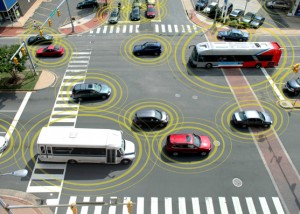 Department of Transportation
The
launch
is part of a $22 million vehicle safety research project, which receives the bulk of its funding from the
U.S. Department of Transportation
.
The project
will assist researchers in figuring out how to prevent car crashes, which account for 34,000 fatalities and cost $240 billion annually, according to the National Highway Traffic Safety Administration.
"We can come really close," said program manager and associate research scientist Jim Sayer. "I don't know that we'll fully eliminate crashes because people can do things intentionally sometimes, but I do think we can come really close to eliminating crashes."
The U-M Transportation and Research Institute is seeking 3,000 motorists who frequently drive around Northeast Ann Arbor to participate in the study. During a year-long period, participants' cars will be installed with wireless communication devices that securely transmit and receive vehicle data such as position and speed. Those systems can alert drivers to unexpected vehicle movements, including cars that erratically brake and sudden lane changes or mergers.
Meanwhile, similar devices will be installed at several public intersections, three curve locations and five freeway sites. Those devices will be able to track the number of vehicles in an area, along with factors such as speed and traffic congestion. The goal, according to Sayer, is to facilitate "dynamic real-time timing of traffic signals," although signal moderation isn't a part of the initial pilot program.
The launch will test the reliability of the communication systems and how users respond to the technology. For example, some vehicles will be equipped with devices that communicate traffic and vehicle threats using a specific audible tones and others will combine tones with visual alerts. Researchers will compare which types of communications drivers perceive as most effectual. They'll also test the timing of possible collision warnings.
Want to participate?
"There are differences in the ways that the threat is calculated," Sayer explained. "So we also want to find out what drivers think about the timing of the warning."
The scope and breadth of the project sets it apart from other vehicle safety research programs. In Europe researchers are testing wireless communication systems in vehicle to reduce traffic and in Japan researchers are also testing wireless systems using a vehicle sample size of over 3,000, but Sayer says "there's nothing of this size in North and South America."
"We want to demonstrate this technology, that it's feasible and that it operates in a real-world, multimodal environment," Sayer said. "There's been a lot of work on this type of system on test tracks and a handful of cars have gone on the road under ideal conditions, but (not for) 12 continuous months."
Drivers that participate will be given $100, which they can pocket or donate to Ann Arbor Public Schools, and will need to designate an hour for installment, three 20-minute check-up appointments throughout the year and an other hour at the end of the year so engineers can uninstall the device. They'll need to live in, work in or frequent Northeast Ann Arbor. The pilot area is defined by M-14/US-23 to the north, US-23 to the east, as from Washtenaw Avenue to the south, and west to Main Street.
Most volunteers will have the devices installed in their vehicles, but 128 volunteers will be given one of nine new vehicle models already equipped with the device to drive for the year.
The project's success, Sayer said, is dependent on reaching a reliable sample size.
"The biggest single challenge is the recruitment," he said. "Getting the right number of drivers to participate and the right number of interactions, and just having enough vehicles in close proximity to one another such that they can communicate, (is key)."
Kellie Woodhouse covers higher education for AnnArbor.com. Reach her at kelliewoodhouse@annarbor.com or 734-623-4602 and follow her on twitter.