Posted on
Wed, Oct 17, 2012 : 10:47 a.m.
University of Michigan seeking input on revamped sexual misconduct policy
By Kellie Woodhouse
The University of Michigan is seeking feedback on an updated sexual misconduct policy officials have spent eight months drafting.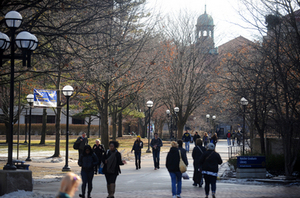 The first of four meetings on the new policy, which isn't yet implemented, will be held 5 p.m. Wednesday at the Northwood Community Center on north campus.
The university began readdressing its practices after receiving guidance from the U.S. Department of Education's Office for Civil Rights in 2011. That fall the school put an interim sexual misconduct policy in place and began working on developing a long-term policy.
The main alterations brought by the new procedure would be:
How an investigation is started: The draft procedure states that all allegations of sexual misconduct made against students are to be reviewed by the university's Title IX coordinator. Under the previous procedure, the university process was largely directed by the complainant after a complaint was filed with the Office of Student Conflict Resolution.
The standard of evidence: The new guidance also instructed campuses to use a "preponderance of the evidence" standard to evaluate an allegation of sexual misconduct. Previously the university used a "clear and convincing evidence" standard. Under the draft procedure, the university will rely on the less-demanding "preponderance of the evidence" standard to substantiate an allegation.
University officials hope to have the policy in place by the end of this academic year.
The Oct. 17 meeting is tailored for students and another student meeting will take place Oct. 18 at 11 a.m. in the Anderson Room of the Michigan Union. There will also be two staff sessions, one on Oct. 23 at 9 a.m. in the Boulevard Room of Pierpont Commons on north campus and another that day at 2 p.m. in the Pond Room of the Michigan Union.
Kellie Woodhouse covers higher education for AnnArbor.com. Reach her at kelliewoodhouse@annarbor.com or 734-623-4602 and follow her on twitter.