Posted on
Sun, Sep 30, 2012 : 5:58 a.m.
University of Michigan to study eating and body issues that are 'huge problem' on college campuses
By Kellie Woodhouse
AP image
One trim, attractive student looked to another and cautioned: "You can't eat that today."
"Oh, didn't you already have [enough food]?" she continued.
This was a conversation University of Michigan senior Lauren Beriont, an environmental science major, recalls witnessing when she lunched with a group fellow U-M students earlier in her college pilgrimage.
Negative self image and the prevalence of eating disorders is a "huge problem at the university," Beriont says.
"It's really sad."
Negative body image and eating disorders aren't just prevalent among students at U-M — they plague college students nationwide.
A U-M professor and graduate student are teaming up to survey between 2,500 and 3,000 students —including males, females, grad students and undergrads, international students and students from every college and ethnicity— about attitudes concerning their body, image and eating habits.
The duo wants to understand the scale and scope of image issues and eating disorders among college students so they can "inform policy and programming on our campus and at colleges and universities across the country," according to Sarah Ketchen Lipson, a doctoral student at the U-M Center for the Study of Higher and Postsecondary Education and co-investigator of the study.
U-M photo
"There's a lot of eating problems on campus that aren't addressed," said Beriont. "It's almost become that if you don't have an eating problem, then you have a problem."
Cautiously, Beriont adds to her summation: "If that makes sense."
On the surface, the statement makes perfect sense.
It's common knowledge that college-aged individuals, especially females, often struggle with their body image, whether it be due to peer influence, media pressures or a number of other factors. Yet the idea that eating disorders can be widely accepted, and times even encouraged, doesn't sit right with most.
"Eating disorders are a serious problem everywhere... and particularly with college students," said Dr. Suzanne Dooley-Hash, assistant professor of emergency medicine at the U-M Health System and co-investigator of the study. "Around college time, you're moving away from home, things change a lot, there's a lot of stress and it tends to be a hard thing."
Teenagers and young adults between 14 and 20 have the highest prevalence of eating disorders, and the statistics among college-aged individuals are staggering.
Two-thirds of college women have undiagnosed mild or emerging eating problems, 60 percent diet or binge and nearly 70 percent use diet pills, purging, or fasting —or combination of all three— to control their weight, according to research. Some researchers have found that up to 19 percent struggle with self-induced vomiting.
Men are not excluded from that data. A recent study found that 9 percent of college men suffer from eating-related issues and three precent report bulimia.
U-M will distribute its first self-image survey next Tuesday to 10,000 students. Investigators expect between 25 and 30 percent of individuals to answer, allowing for a sample of up to 3,000 students. The Ann Arbor-based Center for Eating Disorders has contributed funds for the study.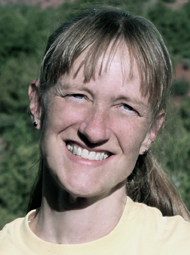 By mid-December, Dooley-Hash and Lipson expect to have captured a better sense of self image and eating disorders among students. From there, the duo will look at how they can apply their results to real life.
"This is an incredibly diverse campus and right now the institution doesn't really [meet the needs of every student]," Lipson said. "The needs of students are obviously different. The needs of a male graduate student versus the needs of a first-year female student are going to be very different."
U-M has a student group called the Body-Peace Corps and offers a program for those with eating disorders, but many students on campus don't know about them.
"I don't really know of any student groups," said Ashley Jordan, a sophomore.
For Jordan, having a positive view of herself has been essential to succeeding in college, she said.
"Self image is a part of college life, it's a part of your daily life," she offered. "If you're not confident in yourself, then you won't be confident in your classes or anything else that you try to do at this university."
In fact, while negative body image might not be diagnosable, it can affect nearly every aspect of students' lives, from their relationships to their grades, according to Dooley-Hash and Lipson.
In recent weeks, pop icon Lady Gaga has been the brunt of much media criticism because of perceived weight gain. Yet the globally famous pop star has been unapologetic about her appearance, instead using the attention to put the spotlight on eating disorders and negative body image and turn the tide on which body types are considered 'normal' and which aren't.
Advocates at U-M would like to do the same. They'd like get to the root of the problem and redefine what's considered 'normal.'
But first they must answer a number of questions: What affects students' body images? What is at the campus environment really like? What foods are available to help students make healthy choices? What programs exist? What needs to exist? How does the university get students talking about body image?
"The overarching goal would be to bridge this gap between research and practice," said Lipson. "To be able to use [data] to tailor programs and tailor outreach."
Kellie Woodhouse covers higher education for AnnArbor.com. Reach her at kelliewoodhouse@annarbor.com or 734-623-4602 and follow her on twitter.