Posted on
Sun, Jul 15, 2012 : 1:01 p.m.
University of Michigan solar car to stop in Ann Arbor Monday during American Solar Challenge
By AnnArbor.com Freelance Journalist
The University of Michigan solar car team will make a pit stop in its home town Monday as part of an overnight stop during the American Solar Challenge.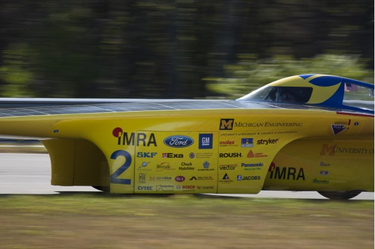 Photo from the U-M solar car website.
The 16 solar cars participating in the 1,650-mile race will overnight outside Michigan Stadium in the permit-parking lot SC36 at Main Street and Keech Avenue. The U-M car is expected to arrive around noon and depart Tuesday morning.
It will be the first time the race has stopped in Ann Arbor.
Quantum, the U-M car, was in first place Sunday morning after starting the day with stormy weather in Erie, Pa., according to an update posted on the team's website. The race began Saturday in Rochester, N.Y.
The 1,650-mile American Solar Challenge traverses eight states in as many days, finishing in St. Paul, Minn.
U-M's Quantum solar car is 16 feet long and five feet wide, weighs 320 pounds, is made of carbon fiber monocoque and is equipped with silicon photovoltaic cells, a lithium-ion battery and an in-hub, brushless electric DC motor. The car has a maximum power output of 12.3 horsepower. It has been clocked traveling as fast as 105 mph.
U-M is defending champion in the race. The team has won the American Solar Challenge four years running and seven times overall. The team took third place in last fall's World Solar Challenge in Australia.
Read more about the solar car team here.