Posted on
Thu, Sep 30, 2010 : 12:20 p.m.
University of Michigan student body president seeks restraining order against assistant state attorney general
By David Jesse
This story has been updated with a PDF of the PPO application and with details from a police report filed after Armstrong called the police on Shirvell.
University of Michigan student body President Christopher Armstrong is seeking a restraining order against an assistant state attorney general who has been publicly accusing Armstrong of pushing a radical homosexual agenda and showing up at places where Armstrong is, court records show.
Armstrong will go to court next week for a hearing on the personal protection order that would prohibit Andrew Shirvell from contacting him or coming near him.
Judge Nancy Francis denied Armstrong's request to immediately issue the order, instead setting a hearing for 1:30 p.m. Oct. 4. Armstrong is asking that Shirvell be banned from appearing within Armstrong's sight, from having e-mail or Facebook contact with Armstrong and to be prohibited from approaching "current or former university students or MSA reps."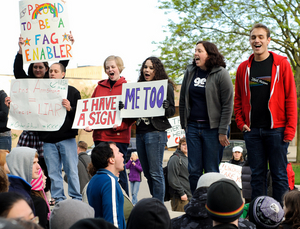 Shirvell, an assistant attorney general for the state of Michigan, has been writing a blog accusing Armstrong of pushing a radical homosexual agenda. In addition, he has shown up at various Michigan Student Assembly events to protest Armstrong, including holding signs attacking him that have a rainbow with a swastika drawn on it.
Armstrong is the university's first openly gay student body president.
Armstrong and Shirvell could not be reached for comment today.
Shirvell is prohibited from stepping foot on the U-M campus, university officials confirmed this afternoon. Diane Brown, a campus police spokeswoman, said Shirvell was read a trespass warning on Sept. 14, meaning he is banned from campus.
Brown said the trespass was based on complaints and an investigation involving "potential harassment or stalking or intimidation" of Armstrong by Shirvell. She declined to discuss where police read him the trespass warning.
Police are still investigating Shirvell, and the case has not yet been turned over to prosecutors, Brown said. She said Shirvell is appealing the trespass order, and no date for the appeal hearing has yet been set.
In the personal protection order application filed Sept. 13, Armstrong calls Shirvell "a threat to my own personal safety" and details several instances where Shirvell followed Armstrong's friends as they partied in various Ann Arbor locations, hoping to confront Armstrong.
Armstrong also writes that Shirvell called Speaker of the House Nancy Pelosi's office twice over the summer after Armstrong took a job there to lodge complaints against Armstrong.
Armstrong said in court documents that Shirvell showed up at 1:30 a.m. at a house party Armstrong was holding on Sept. 4.
On Sept. 6, Armstrong asked for an escort from the University of Michigan's Department of Public Safety after Shirvell showed up at Armstrong's Ann Arbor home. The Ann Arbor Police Department was also called to Armstrong's house that day.
According to a police report, officers responded at 11:27 a.m. to the home on East Madison Street after receiving a report of a trespassing complaint.
Shirvell told officers he was protesting Armstrong because he was "extremely upset" Armstrong joined Order of Angell, which is a senior honorary society at U-M, the report said. Shirvell also told officers he was being "extremely peaceful," walking up and down the sidewalk carrying a sign that displayed a picture of Armstrong and had words on it, expressing the reason for the protest, the report said.
It's unclear what was written on the sign. Shirvell also told officers he is a licensed attorney, had his bar card with him and is "extremely familiar with his rights as a protester," the report said.
According to the report, Armstrong told police he was feeling "somewhat harassed," and had made prior reports to U-M police about similar issues. Police said Shirvell was acting within his constitutional rights.
"He did not threaten anyone or attempt to enter on the property," police spokeswoman Lt. Renee Bush said.
But in his application for a restraining order, Armstrong said Shirvell's actions made him fear for his safety.
"The actions that Mr. Shirvell has taken against me over the past four months have been incredibly distressing," Armstrong wrote. He added he might feel slightly different if Shirvell was a student, but since he wasn't, "his actions are concerning and make me feel unsure about my own personal safety.
"His actions … have been an outright attack on my ability to live my life openly and be honest about who I am," he wrote.
The university administration today reiterated its support for Armstrong.
"The University of Michigan stands behind our community's value of expecting respect," Laura Blake Jones, dean of students, said in a press release. "We continue to take the situation very seriously. Many of us have been working behind the scenes on this situation since spring."
Above all, the university is working to respect Armstrong's privacy and not let an unwanted situation interfere with his college studies or the ambitious agenda he has set for MSA in the coming year, spokeswoman Kelly Cunningham said in the release.
U-M President Mary Sue Coleman also issued a statement today, saying the university "has called upon others in positions of authority to take all appropriate action to address this situation." A U-M spokesman declined to elaborate on that.
"A high-profile situation involving one of our students is highlighting the importance of values that our institution holds dear," Coleman said in the statement. "An individual has chosen to target the elected president of the U-M student body in a reprehensible manner ... As a community, we must not and will not accept displays of intolerance. We are heartened, but not surprised, by the response of the campus community in supporting Chris. We are impressed with his resiliency and stand by him and the important work he is doing on behalf of all of our students."
Armstrong has not spoken directly about Shirvell, a U-M alumnus, but did read a statement at a recent student assembly.
"I will not back down," he said. "I will not flinch. I will not falter. I will not succumb to any unwarranted attacks. What I will do is I will carry on with the utmost pride and vindication," the statement said. "I, along with the rest of this assembly, were elected to this body to represent the university. And nothing said about us, or regarding our personal merits, will waive our commitment to serve the student body."
The U-M Board of Regents also weighed in on the issue indirectly, saying at its meeting earlier this month that the university would provide support to any student who is being attacked by someone outside of the university.
AnnArbor.com News Director Amalie Nash and reporter Lee Higgins contributed to this story.
David Jesse covers higher education for AnnArbor.com. He can be reached at davidjesse@annarbor.com or at 734-623-2534.