Posted on
Wed, Aug 28, 2013 : 3:06 p.m.
University of Michigan's new freshmen move in: 'It's a crazy feeling. This is our new home'
By Kellie Woodhouse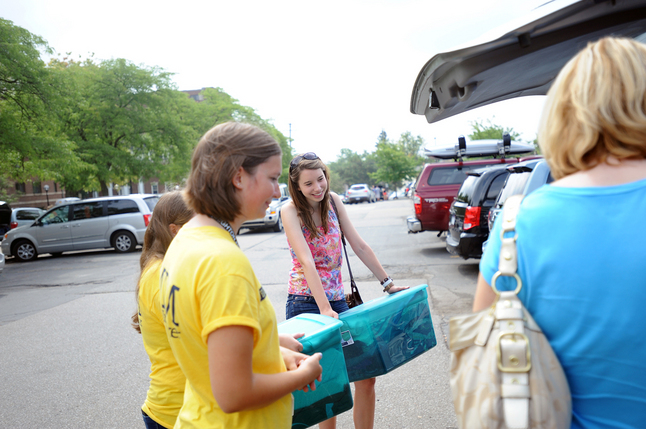 Katja Molinaro spent Wednesday morning unpacking her room.
She made her loft bed, carefully arranged her pillows and hung a curtain from the loft to create a cubby where her desk sits.
A Dayton, Ohio, native, Molinaro was moving into college for the first time.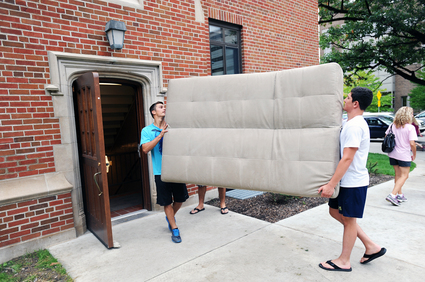 Brianne Bowen | AnnArbor.com
"I thought I'd be so much more nervous," the
University of Michigan
freshman said as she looked around her dorm room in the
recently renovated East Quadrangle residence hall
. Her roommate's side of the room was still empty and Molinaro was giddy from the excitement of experiencing so many new things at once.
"Getting everything ready and seeing all my dorm stuff —my bedding and my pillows all together— is great. Seeing everyone move in is awesome."
Explained Josh Vertes, a U-M freshman from Cleveland, Ohio, who also moved into East Quad Wednesday. "It's a crazy feeling. This is our new home."
U-M is home to about 10,500 students this year, including the vast majority of the school's roughly 6,000 freshmen. Most students will move in Wednesday through Friday.
Classes begin on Tuesday, Sept. 3, so students will use the rest of this week and the long weekend to get acquainted with campus and Ann Arbor and probably attend their first football game as Wolverines.
"The mood is excitement and confusion and overwhelming," said Amy Turner, a U-M freshman and East Quad resident. "There's a lot of sweat." Turner is one of more than 800 student volunteers who moved into the dorms early so they could help move their peers in. She said housing officials recommended volunteering as a good way to make friends.
As students unpacked their belongings, the fact that they wouldn't be making the return trip home with their parents began to sink in.
"I was kind of nervous realizing I'm on my own, but at the same time it's exciting," said Madeline Dickens, a freshman from Oxford, Mich. "I'm on my own away from my family, but at the same time I am meeting all new people."
Added her roommate, freshman Ella Deaton: "I was nervous driving here and arriving, but once I'm in my room it's good."
Dickens and Deaton met for the first time Wednesday. They're both a part of East Quad's Residential College, with Dickens studying French and Deaton is learning Spanish.
Matt Pauszek, an Indianapolis native and U-M freshman living in East Quad, said he searched for the bathroom on his hall for what felt like a half hour until he finally found it.
"It's a bit hectic," he said of the moving process. Pauszek is already considering how he is going to manage his free time in college. "
You're your own man. You can do whatever you want," he said, explaining the freedom that comes with living at college. "You make your own decisions."
Molinaro is already thinking about paying her hefty out-of-state tuition bill. She said that in addition to being on a campus debate team, she plans to get a part-time job to help pay for college.
"Out-of-state tuition is crazy," she offered. The cost of attendance, which includes supplies and room and board, for an out-of-state freshman at U-M is estimated at $53,490 per year. In-state students living on campus pay about $26,240 for college and related expenses each year.
Dickens, on the other hand, is already gearing up for a workload that will make high school look like a cinch.
"At my school senioritis is a big thing, so the workload kind of slowly decreases near the end of the year," she said. "So I am kind of nervous about the college workload."
But for students moving into East Quad, the refurbished facility serves as a nice distraction. The dorm, which houses 856 students and a 430-seat dining hall, recently underwent a $116 million renovation. The renovation added air-conditioning, overhauled the dining area, upgraded the bathrooms and added and improved several community spaces.
"I lived here my freshman year actually so it's been really fun to come back and have a space that's a lot more functional," said Maddie Higgins, a U-M junior who will work as an RA in East Quad.
Kellie Woodhouse covers higher education for AnnArbor.com. Reach her at kelliewoodhouse@annarbor.com or 734-623-4602 and follow her on twitter.