Posted on
Thu, Feb 21, 2013 : 10:02 a.m.
University of Michigan Student Run Free Clinic looks at possible relocation sites following fire
By Erica Hobbs
Just days after a fire devastated the Pinckney building that housed the University of Michigan Medical School Student Run Free Clinic, community members have come forward offering temporary housing alternatives.
Laura Goldman, who began the Faith Medical Clinic that housed the Student Run Free Clinic, said they are looking at three potential spaces, including the old Putnam Township fire department and a church in Brighton. She said the Pinckney Community Public Library is expected to vote soon on whether or not it also will offer itself as a temporary housing option.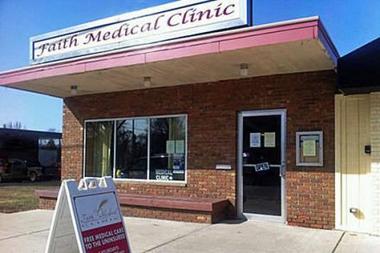 File photo | Courtesy of the University of Michigan Health System
The fire, which occurred early Monday morning, destroyed the building at 122 S. Howell St. in Pinckney which firefighters say started by accident, according to the Livingston Daily. The Student Run Free Clinic had been leasing space from the Faith Medical Clinic since April of 2012, both organizations provide free medical care to people who are uninsured.
Goldman said both the clinics hope to be up and running again within the next two to four weeks, depending on where they find space and how soon they can get basic equipment needs.
In addition to destroying the building, Dr. Hari Conjeevaram, one of the faculty advisors of the student clinic, said the fire destroyed a "few thousand dollars" worth of equipment and supplies including fax machines, printers, medication, blood pressure cuffs, thermometers, lamps and stethoscopes.
All patient records for the student clinic were kept on laptop computers not stored in the building at the time, he said. Goldman said the computer and filing cabinets that stored the Faith Medical Clinic's patient records were also not damaged.
Goldman, a nurse practitioner, started the Faith Medical Clinic in 2007 with her husband Mitchell Goldman, a medical doctor. The Student Run Free Clinic joined with them on a trial basis in April of 2012, offering a free clinic Saturday afternoons every other weekend. In October, the program expanded to offer their free clinic every Saturday. Conjeevaram said the student clinic has seen 150 new patients since its beginning and has about 45 medical student volunteers and coordinators.
The Faith Medical Clinic had been leasing the building from Putnam Township for $1 a year. Goldman said Putnam Township has not yet decided whether or not it will rebuild the building, but Goldman said she is hoping.
"If they keep it and restore it, I'd be delighted," she said.
Though the location of the clinic still is undetermined, but one thing that is for sure is the University of Michigan clinic intends to follow and continue supporting the Faith Medical Clinic. Though both clinics work independently, Conjeevaram said they do share resources and patients.
"It's important that we support that we work with them to get the new place rather than going on our own separately," he said.
Those who wish to support the clinics can make a donation to the Faith Medical Clinic. Donations can be made via PayPal on the Faith Medical Clinic website or sent by mail to Faith Medical Clinic, PO Box #978, Pickney, MI. Conjeevaram said the student clinic has not yet started a donation site but one should be up and available on the student clinic's Facebook page within the next few days.