Posted on
Fri, Nov 4, 2011 : 1:32 p.m.
University of Michigan student launches anti-Nickelback petition for Detroit Lions halftime show
By Cindy Heflin
A University of Michigan graduate student started a petition protesting the choice of Nickelback as the halftime entertainment for the Thanksgiving Day Detroit Lions Game at Ford Field, MLive reported today.
Dennis Guttman told MLive his "jaw dropped" when he learned Nickelback would provide the halftime show for the game he said he's "been more excited about than just about anything."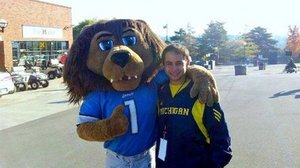 Dennis Guttman
It didn't take Guttman long to start an
online petition
calling for a change. As of 12:45 p.m. Friday, the petition had 27,158 signatures.
"There's a lot of people who just can't stand listening to Nickelback." Guttman told MLive. "And there's a lot of people who are upset because they didn't pick somebody from Detroit. And then there's a bunch of people upset because Nickelback's Canadian, and it's American holiday and an American sport."
From the petition:
"This game is nationally televised, do we really want the rest of the US to associate Detroit with Nickelback? Detroit is home to so many great musicians and they chose Nickelback?!?!?! Does anyone even like Nickelback? Is this some sort of ploy to get people to leave their seats during halftime to spend money on alcoholic beverages and concessions? This is completely unfair to those of us who purchased tickets to the game. At least the people watching at home can mute their TVs. The Lions ought to think about their fans before choosing such an awful band to play at halftime."