Posted on
Thu, Nov 29, 2012 : 4:07 p.m.
University of Michigan student group rallies for tuition freeze
By Katrease Stafford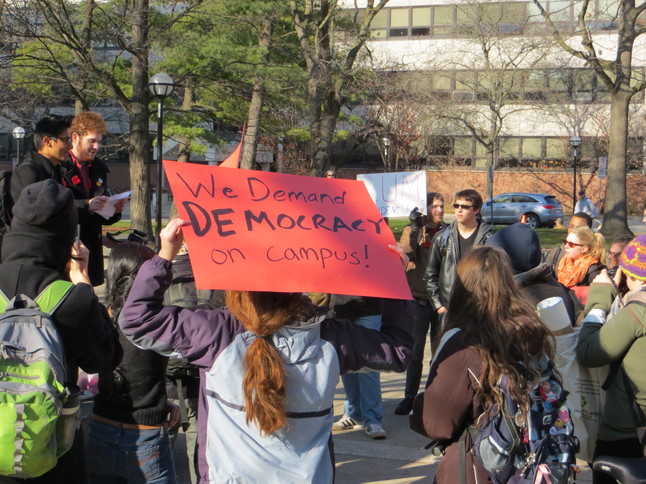 Katrease Stafford | AnnArbor.com
Nearly 40 University of Michigan students gathered at the Diag Thursday to rally support in asking the administration to freeze tuition next year.
The students cited rising tuition costs and increasing student loan rates as a reason the U-M administration should take the step toward freezing tuition.
Student Union of Michigan organizer Martin Vega said during the rally that he expected the university to be a "generator of accessibility" for students from all different backgrounds, but he has been disappointed.
The students planned on delivering a letter directly to President Mary Sue Coleman's office stating that tuition should be frozen. The roughly 300-member group is hopeful the administration will respond and said its next step will be to push forward with the effort. The group was formed to "confront the tough realities" of rising student debt.
"Five years in, it (the university) has failed its public mission," Vega said. "We need to stop this now."
AnnArbor.com reported in June that U-M raised its resident undergraduate tuition and fees 2.8 percent for this academic year. This was the second-lowest tuition increase in a decade for the university.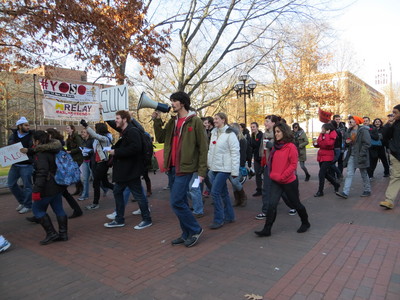 Katrease Stafford | AnnArbor.com
Freshman and sophomore students will pay nearly $13,000 per year in tuition and fees. The hike adds an additional $360 per year for most students.
Resident tuition at the Stephen M. Ross School of Business increased 4.7 percent for underclassmen and 6.2 percent for upperclassmen.
Tuition for non-residents also increased, rising by 3.5 percent.
U-M Lecturer within the Penny W. Stamps School of Art and Design Beth Hay came out to support the students on behalf of the Lecturers' Employee Organization.
"I support these students efforts toward tuition equality," Hay said. "I'm here to represent the lecturers that support this."
Student Union of Michigan has been organizing since the start of the fall 2012 semester in an effort to get a tuition freeze.
"This is important because it concerns our futures," Vega said. "It concerns our ability to make a living and to help our families in the future."
Vega said that both undergraduate and graduate tuition rates are "way too high," and it places students in a position where they are choosing between paying their debt and life necessities.
"The average student graduates with $27,000 in debt," Vega said. "That ends up being around $50,000 when you include interest. That means that coming out of a university, a student is going to have to choose between paying their debt or buying a car. Paying their debt or buying a house."
The experience of a struggling former student post graduation hits home with Vega, whose girlfriend graduated from the university in 2010. Vega said his girlfriend is now working a retail job at a mall as an assistant manager. She has $20,000 in debt from two semesters.
"We're sending a message to the president that debt is too high, executive pay is too high and students deserve a voice as to how the university has been run."
Katrease Stafford covers Ypsilanti for AnnArbor.com.Reach her at katreasestafford@annarbor.com or 734-623-2548 and follow her on twitter.