Posted on
Mon, Jun 14, 2010 : 6:03 a.m.
University of Michigan to promote continuing education opportunities, may add to current offerings
By Juliana Keeping
Non-traditional students hoping to enhance their mind and skills at the University of Michigan have to troll various schools and colleges' websites for information on continuing education offerings that might suit their interests.
That process is about to get easier; a task force assigned to assess continuing education at the university has recommended putting everything U-M has to offer on one website.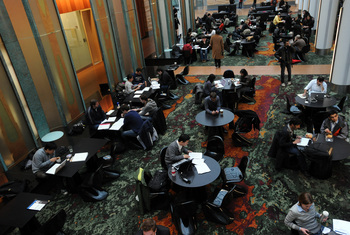 Melanie Maxwell | AnnArbor.com
The site would advertise and cross-promote programs, which could double the revenue the programs generate, from $2.75 million to $5 million in five years, the task force found.
"That kind of visibility will help to build a social network around these courses," said Derek Collins, chair of the panel and an associate dean for the humanities at the College of Literature, Science and the Arts. "They will realize there is a lot more offered and will be able to move more easily between one course and another."
Some examples of current continuing education offerings include professional development in the engineering, medical and business schools and distance learning at the U-M School of Public Health.
Collins added that it's not just about money, but engaging the community at large. Overall, the task force envisioned strengthening bridges between free offerings like community lectures and fee-based programs. Hopefully, that strategy will lead to increased participation in the intellectual life of the university and its activities, he said.
The task force also asked for ideas from the U-M community about future continuing education opportunities. It found a number of retired professors are interested in giving community lectures. Another idea was to have an intergenerational program for grandparents who attended U-M and their Wolverine grandchildren. Yet another focused on making it easier for alumni to sit in on lectures. Most ideas called for greater professional development opportunities.
New courses or programs won't be added - yet. But the task force will share ideas with individual deans, who will take it from there.
"The University of Michigan is not going to turn into a community college, or the Ann Arbor Rec & Ed Center," Collins said. "But we're looking at what sources of programming people are currently taking and where there is demand for more."
Collins' panel and four others have been meeting since the fall of 2009 to come up with ideas to save money and control costs. Other panels are exploring marketing to U-M nonresident undergraduate applicants, creative staffing and shared services, expanding spring and summer instruction and best practices for centers and institutes.
Updates from the other four task forces are expected this summer.
Juliana Keeping covers higher education for AnnArbor.com. Reach her at julianakeeping@annarbor.com or 734-623-2528. Follow Juliana Keeping on Twitter