Posted on
Tue, Nov 15, 2011 : 10:12 a.m.
Survey: U-M No. 8 on list of universities with most foreign students
By Kellie Woodhouse
Thirteen percent of the University of Michigan's student body is foreign— one of the highest percentages of any higher education institution in the nation.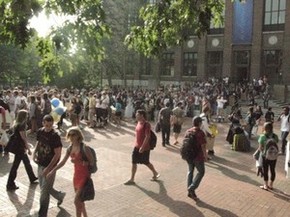 A recent
survey by the Institute of International Education
tallied the number of foreign students at U-M at 5,595, out of a 42,716 overall student body.
That ratio puts U-M at No. 8 on the list of universities in the United States with the highest concentration of foreign students.
U-M said students from China make up nearly one-third of all foreign-born students at U-M. Additionally, the overwhelming majority of foreign students at the university are from Asia.
The Top 5 countries with the most students at U-M are:
China: 1,747 students
India: 752 students
South Korea: 687 students
Taiwan: 287
Canada: 244
According to the institute, the total number of international students at U.S. universities and colleges is 723,277— up 5 percent from last year.
The U.S. Department of Commerce estimates those students bring about $21 billion to the nation's economy through tuition, fees and living expenses.
Throughout Michigan, there are 24,668 foreign students attending college. Thats a 1.9 percent increase from last year. The institute estimates those students bring in $705.7 million to the state economy each year.
The total number of foreign students at U-M in 2011 declined slightly from 2010, when there were 6,095 foreign students.
Kellie Woodhouse covers higher education for AnnArbor.com. Reach her at kelliewoodhouse@annarbor.com or 734-623-4602 and follow her on twitter.