Posted on
Mon, Jan 11, 2010 : 3:13 p.m.
University of Michigan trauma prevention program donates ski helmets to Mt. Brighton
By Tina Reed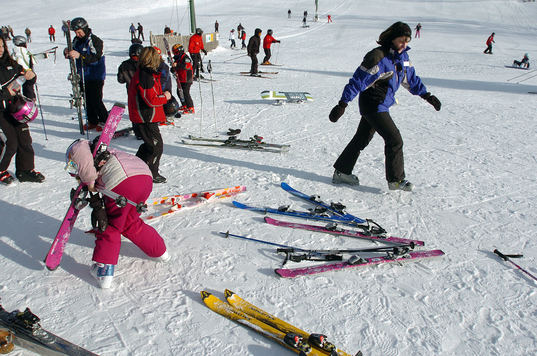 Kids and parents gather up their skis following a youth ski session at Mt. Brighton in this 2008 photo.
As director of the injury prevention program in the University of Michigan pediatric trauma unit, Amy Teddy's main job is to try to keep patients from ever making it into the unit.
Most of her time is spent looking at the kinds of injuries that most often land kids in the hospital: Falls from trampolines, falls from playground equipment and car accidents.
One area that hasn't received much attention, though, is safety during winter sports, Teddy said.
With the 2010 Winter Olympics fast approaching — and with highly publicized injuries like actress Natasha Richardson, who died after sustaining a head injury while skiing last winter — the department recently decided to donate 150 helmets to the Mt. Brighton Ski Area.
The donated helmets - in sizes for children up to age 17 - are intended to increase overall regular usage of helmets and prevent head injuries among skiers and snowboarders, Teddy said. The ski resort agreed to reduce the rate for helmet rentals from $8 per helmet to $5 per helmet and is allowing U-M to post reminders about the importance of wearing helmets.
U-M is also giving head injury prevention information to other Michigan ski resorts.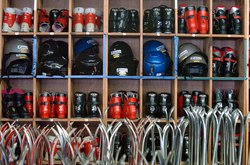 Mt. Brighton has already provided helmet rental for skiers in the past, but has a larger supply and agreed to reduce its price for helmet rentals for kids. File photo by Lon Horwedel
The Brighton ski area "often have a number of school groups who'd come in and sometimes they found they didn't have enough helmets for everyone," Teddy said.
And more of these groups are insisting every child wear a helmet.
"Overall, the media has burst the issue into the spotlight with the Natasha Richardson case … there's just better awareness across the board, and helmet use is becoming more popular. These high-profile cases really highlight the importance of our cause."
In the past four years, 24 children have been admitted to U-M's trauma unit because of injuries sustained while skiing or snowboarding. A majority of the injuries might have been prevented if the children had been wearing a helmet.
The U.S. Consumer Product Safety Commission says ski helmets could prevent or reduce the effects of 50 percent of head injuries suffered by children under the age of 15 while skiing or snowboarding. Nearly 30,000 children, ages 5-14, will be injured while skiing or snowboarding this season, according to the group.
"For every patient we have admitted, we have that many patients who are ending up in the emergency room who aren't admitted. You have to have a pretty profound injury to end up in the pediatric trauma unit."
And when it comes to head injuries, the injuries can have lifelong consequences.
One of the children treated at U-M was then-10-year-old Tyler Hood, who sustained extensive skull fractures and a traumatic brain injury after hitting a tree head-on while skiing at a Cadillac resort last February. Nearly a year later, Hood is almost fully recovered, but still has to regularly undergo therapy because of his injuries, she said.
"Injuries like sprains, strains and broken bones are treatable, but when it comes to injuries to the brain, it is not the same. The outcome can be tragic with lifelong consequences. The most heartbreaking cases are those that are preventable," Teddy said.
Hood's mother, Tina Hood, said she supported U-M's awareness and helmet campaign.
"I'm very touched. If this can keep others from suffering the heartache we went through….then I'm happy."
One upside to the down economy, Teddy said: The unit has seen a clear drop in the number of injuries caused by recreational activities as families choose to stay home more often to avoid the expense of the activities.