Posted on
Thu, Mar 14, 2013 : 11:44 a.m.
University of Michigan warns students against irresponsible drinking on St. Patrick's Day
By Kellie Woodhouse
A trifecta of celebratory events taking place this weekend has University of Michigan officials taking steps to discourage over-drinking among students.
In an email sent to all students, U-M officials encouraged students "to show our maize-and-blue pride" by acting respectfully and drinking responsibly as the Big Ten Basketball Tournament, St. Patrick's Day and the school's honors convocation converge this weekend.
The email directed students to eat before and after drinking, pace their alcohol consumption, avoid taking shots and alternate alcoholic beverages with non-alcoholic beverages.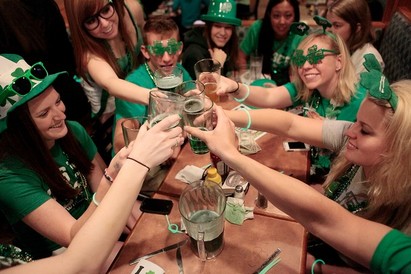 Chris Asadian | AnnArbor.com
"I wouldn't say we're worried about it, but we take opportunities to remind students about being good neighbors," said U-M spokesperson
Rick Fitzgerald
. "It's no secret that St. Patrick's Day is often focused around drinking alcohol."
Fitzgerald said U-M has sent similar reminder emails during Labor Day weekend, when students return to campus converges with the holiday and, usually, the first home football game.
Last year during St. Patrick's Day bars along South University closed early due to large, and in some cases unruly, crowds.
The email, sent Wednesday afternoon, was signed by Laura Blake Jones, U-M dean of students, Joe Piersante, U-M police chief, and John Seto, Ann Arbor police chief.
The campus-wide note also offered students pointers on how to act, and what to avoid, when partying.
What to do:

Be considerate of neighbors.
Monitor how much people are drinking.
Control the noise level.
Be respectful of the police.
Leave your drinks behind when you leave a party.
Use bathrooms, not bushes.
Use trash containers, not the ground.
Make sure those under 21 are not drinking.
Stay away from open windows and off rooftops and ledges.

Things not to do:

Do not walk in the streets with open alcohol.
Do not allow intoxicated people to drive.
Do not play music, etc. loudly between 10 p.m. and 7 a.m.
To encourage students to eat breakfast on the Irish holiday, U-M is hosting a carb-loaded bagel breakfast from 6 a.m. to 10 a.m. in three locations: South University Ave. near Ulrich's, outside of the Union on State Street, and at the intersection of Tappan, Oakland, and East University streets. Dining halls don't open until 10 a.m. Sunday.
U-M's Central Student Government also is hosting a party on the Diag as an alternative to, or in some cases a break from, drinking. It will take place from 10 a.m. until 2 p.m. Sunday and include free food.
The school also has scheduled several Big 10 Men's Basketball Tournament watch parties thoughout campus.
Kellie Woodhouse covers higher education for AnnArbor.com. Reach her at kelliewoodhouse@annarbor.com or 734-623-4602 and follow her on twitter.