Posted on
Fri, Nov 26, 2010 : 3:55 p.m.
University of Michigan wins annual organ donor challenge against Ohio State
By AnnArbor.com Staff
The Wolverines face a daunting opponent when they take on Ohio State in Columbus on the football field Saturday, but the University of Michigan in Ann Arbor has already won a victory over the Buckeyes off the field, The University of Michigan Health System announced today. U-M registered more organ donors than its Ohio State rival in the annual Wolverine-Buckeye Challenge.
U-M signed up 79,958 donors to Ohio State's 57,083 in the challenge that ended at midnight on Thanksgiving. It was the first time U-M won the contest since it began in 2006.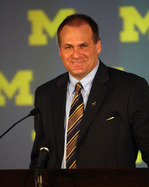 "We all enjoy winning a victory against our rival from Ohio," Tony Denton, executive Director of University Hospitals and chief operating officer of U-M Hospitals and Health Centers, said in a press release. "But the real winners will be the people who rely on these life-saving gifts, organs and tissues that will give thousands of people a second chance at life."
Every day, 19 people die while waiting for an organ transplant and another 138 people are added to the national waiting list. The University of Michigan Health System began a new effort this year, dubbed Wolverines For Life, to encourage organ, tissue, eye, blood, and bone marrow donation by U-M employees, patients, students, alumni, fans and everyone in the state of Michigan.
To kick off this effort, U-M Football Coach Rich Rodriguez, along with Health System leaders, encouraged people to join in the annual Wolverine-Buckeye challenge. The challenge allowed people to sign up as organ donors upon their death and have their pledge tallied for their favorite school.
Rodriguez did radio spots and shared his weekly press conference Monday with a 16-year-old transplant recipient, Andrew Majors. Andrew, who goes to Eisenhower High School in Shelby Township, Mich., received both a liver and kidney transplant as a baby at the University of Michigan Health System.
U-M co-sponsors the Wolverine-Buckeye Challenge with Gift of Life Michigan, which is the state's federally designated organ and tissue recovery organization. You can still sign up on the state's donor registry at www.giftoflifemichigan.org. Gift of Life Michigan, in collaboration with the Michigan Eye-Bank, provides all services necessary for organ, tissue and eye donation.
U-M has one of the oldest and largest transplantation programs in the country, and U-M surgeons perform transplants of hearts, lungs, pancreases, livers, kidneys, and corneas. About 400 to 450 transplants are done at U-M annually, mostly kidney transplants followed by liver, heart, lung and pancreas.