Posted on
Tue, Mar 13, 2012 : 11:17 a.m.
University of Michigan graduate programs ranked among top in nation
By Kellie Woodhouse
University of Michigan's flagship programs held their place among top-ranked graduate programs in recent U.S. News and World Report rankings.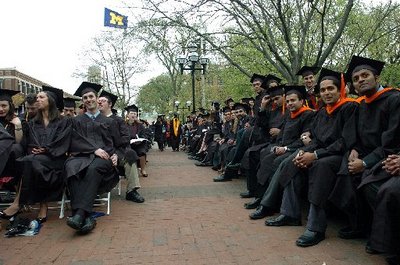 U-M's engineering, business, social work and medical schools rose in U.S. News' 2013 Best Graduate Schools rankings, while its education, law and pharmacy schools lost prominence on the list.
U.S. News dubbed the U-M School of Social Work the nation's top social work school. The college earned the No. 2 spot when it was last ranked in 2008.
The U-M College of Engineering is tied for eighth place with University of Texas at Austin this year. The engineering school went up a spot from 2012's ninth-place ranking. The school also ranked eighth in the 2011 list.
U-M's Law School fell to 10th this year. In 2012, the school was tied with the University of Pennsylvania for seventh place and in 2011 the school ranked seventh. Yale, Stanford and Harvard hold the top three rankings, respectively, and University of Pennsylvania still ranks seventh.
The U-M College of Education also dropped three spots and now ranks 12th. The school ranked ninth in 2012 and 14th in 2011. Meanwhile Michigan State University's education school rose from 17th place to 16th.
Among the top-ranked education programs, four public universities ranked higher than U-M. Vanderbilt University retained the top spot it held in 2012.
U-M's Stephen M. Ross School of Business is tied with University of Virginia's business school for 13th place, up a spot from 2012.
University of California at Berkeley was the only public institution that had a higher ranked business school. U.S. News ranked Harvard, Stanford and the University of Pennsylvania's business school's first, second and third, respectively.
U-M's Medical School was ranked eighth for primary care, up 12 spots from 2012's ranking, and maintained its No. 10 spot for research.
The College of Pharmacy lost two spots it was last ranked in 2008 and is now considered the seventh-best pharmacy program by U.S. News.
U-M's higher education administration speciality and nuclear engineering program also received first-place rankings from U.S. News.
U-M as a whole ranked 28th in the nation this year on U.S. News' annual list of best universities released in September.
Read U.S. News' reasoning behind the rankings here.
Kellie Woodhouse covers higher education for AnnArbor.com. Reach her at kelliewoodhouse@annarbor.com or 734-623-4602 and follow her on twitter.