Posted on
Mon, Aug 16, 2010 : 6:22 p.m.
University of Michigan's policy admitting medical errors reduced costs, study finds
By Tina Reed
A well-publicized University of Michigan policy of apologizing for medical errors effectively decreased liability costs to the health system and didn't lead to additional malpractice lawsuits, an analysis released today concluded.
U-M instituted a policy in 2001 encouraging staff to report medical errors and offer an apology and compensation when the health system found a medical error caused injury. Before that, the health system forwarded all claims to a defense counsel to review and advise whether to settle or go to trial, according to a description from the study.
According to the study, new claims for compensation, liability costs and the amount of time it took to resolve claims after the policy was implemented all went down.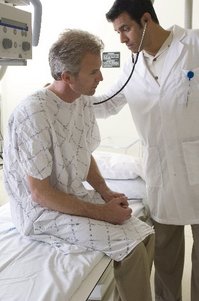 "This shows that over time, hospitals can afford to do the right thing," Richard Boothman, U-M's chief risk officer and a co-author of the study, said in a release. "It demonstrates what we have believed to be true for some time: the sky won't fall in by pursuing a pro-active and honest approach to medical mistakes."
The study was released today in the Annals of Internal Medicine. It was conducted by researchers at the University of Michigan, Brigham and Women's Hospital, among others.
Among the findings:
The median time to resolve a claim dropped from about 16 months to just less than a year.
The monthly rate of new claims fell from about 7 per 100,000 patient encounters to about 4.5 per 100,000. The number of lawsuits the health system experienced fell from about 38.7 per year to about 17 after the new program began.
The annual spending at the U-M health system on legal defense decreased 61 percent. The average cost per lawsuit decreased from $405,921 to $228,308 after the policy started. Costs did not change significantly for non-lawsuit claims.
There are different possible explanations for the drops, the study authors wrote. They included fewer claims in general and fewer injuries from error because of a safer hospital culture.
It's also possible patients are more satisfied by being offered an apology and an explanation and are less likely to file a lawsuit when they feel the health system is being transparent, said lead author Allen Kachalia, who is medical director of quality and safety at Brigham and Women's Hospital in Boston.
That would be good news, said Sam Watson, senior vice president for patient safety and quality of the Michigan Health & Hospital Association.
"I think it makes very good sense. My hope is this is a study that will demonstrate something we all hope to be true," Watson said. "If we're honest and we admit it when bad things unfortunately do happen, it doesn't excuse responsibility, but it changes the conversation."
Often medical lawsuits occur because a patient wants to understand what happened, why it happened and what's being done to prevent it, he said.
"At the heart of it, that's typically what people are suing for because they don't feel they can get the information another way," Watson said.
According to the study, little data is available on the impact disclosures of medical errors has on liability to health care providers. Some data suggests liability risk may increase when disclosing mistakes.
The study authors pointed out limitations to the research, saying changes in Michigan malpractice law in the 1990s may have impacted the number of paid claims in the state overall during that period anyway.
U-M's policy is driven by a push to change the safety culture, but the study shows clear cost benefits to the practice as well, Boothman said.
"We are all in this together. We support our staff best by being honest about mistakes because without that honesty, we're never fix the problem, other patients may get hurt and we'll expose our staff to that heartbreak again, too," Boothman said in a statement. "Honesty is the key to improving and hurting no one else is the best risk management I can imagine."
Tina Reed covers health and the environment for AnnArbor.com. You can reach her at tinareed@annarbor.com, call her at 734-623-2535 or find her on Twitter @TreedinAA.