Posted on
Tue, Feb 5, 2013 : 5:58 a.m.
U-M's new general counsel tells faculty his job is to represent the university and help it avoid risk
By Kellie Woodhouse
University of Michigan's recently hired general counsel met with faculty Monday and explained his new gig.
"My job is to represent the university, to represent the regents, to represent the president and executive officers and, where appropriate, individual employees," said Timothy Lynch, who assumed U-M's top legal position Jan. 7. "To give my best judgement and advice regardless of who's asking the question, that's my job as general counsel."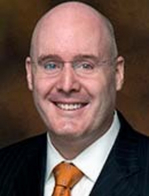 Lynch is a former top attorney at the U.S. Department of Energy. He was hired to replace Suellyn Scarnecchia, who left administration to return to teaching at the law school.
During the Monday afternoon meeting with the faculty senate's advisory committee on university affairs, Lynch said he would help administrators "avoid risk" by advising them on practices and policy choices. Ever the risk manager, Lynch advised one faculty member to stop speaking when he thought the subject matter (the appearance of course material used in a Coursera class without the professor's knowledge) was too sensitive to share in front of the media.
He emphasized the importance of compliance, both to avoid criminal issues and grant misconduct.
"It's really a vital thing for any entity this size ... to have a strong compliance culture, and to have not just a culture but to have tools in which people can bring [up] issues."
Lynch said he'll employ a hands-on leadership style as general counsel.
"I go to the other offices" outside of the Fleming Administration building, where Lynch is based. "That's the way I like to manage and that's the way I've managed lawyers in the past."
He said that although his department has offices in Fleming, the health system, university development and the office of technology transfer, he doesn't "view anyone as a sub-office."
"We work together because we have one client," he said.
When asked, Lynch, who has lectured at Georgetown University and the University of Virginia, said faculty views are important to the general counsel's office. He said some lawyers in the office also adjunct for the law school.
"This is a university, this is not a widget manufacturer," he said. "This is a university so the views of the faculty are important."
Faculty views, Lynch said, will be considered as his department helps create a new document disposal policy.
Lynch earns $400,000 annually, $88,000 more than his predecessor.
Kellie Woodhouse covers higher education for AnnArbor.com. Reach her at kelliewoodhouse@annarbor.com or 734-623-4602 and follow her on twitter.