Posted on
Thu, Jul 18, 2013 : 3:52 p.m.
University of Michigan's North Campus Research Complex has 2,200 employees after 4 years
By Kellie Woodhouse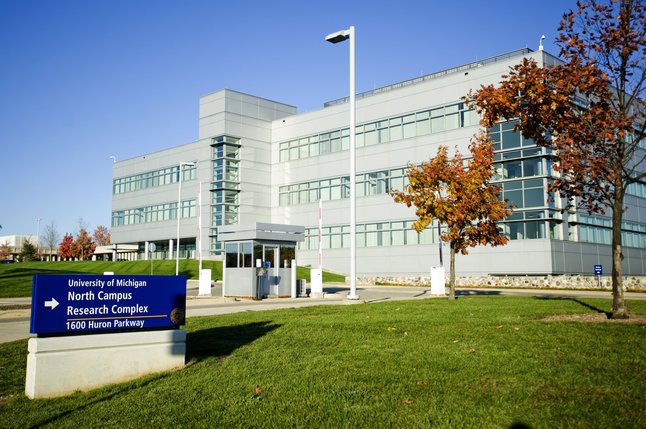 Joseph Tobianski I AnnArbor.com file photo
Four years after the University of Michigan purchased the 174-acre North Campus Research Complex for what college president Mary Sue Coleman called "pennies on the dollar," the school has populated it with 2,200 staff members and headquartered five large research programs there.
The school purchased the 28-building, 2.2-million-square-foot former Pfizer complex in northeast Ann Arbor in 2009 for $108 million, and has since invested another $40 million in site improvements and $64 million in operational costs.
NCRC director David Canter presented a four-year progress report for the complex to U-M's Board of Regents on Thursday afternoon during a public meeting held in NCRC's Building 18.
At 2,200 employees, NCRC is now staffed at nearly the same levels the Pfizer campus was prior to closing. Canter said 65 percent of NCRC's physical space is operational and about 80 percent of that space is occupied.
"It's only a steal if you do something with it, it's actually a burden if you don't," Canter said of NCRC, speaking of the low price U-M paid for the large complex four years ago.
NCRC is populated by faculty, staff and students from more than 40 medical school units, 13 other U-M schools and colleges, 20 external companies, the VA Ann Arbor Healthcare System, and several research-support offices, including the Business Engagement Center.
Five major research programs operating out of NCRC include:
The Institute for Healthcare Policy and Innovation, which brings together hundreds of researchers studying health care delivery
The Biointerfaces initiative, which explores the interaction of physical and medical sciences
The Cardiovascular Research Center, home to basic and applied research on heart and blood vessel diseases
The Translational Oncology Program, focusing on detecting and treating cancer at the molecular level
The Michigan Center for Integrative Research in Critical Care, studying conditions that cause acute health crises
More than 200 faculty researchers are headquartered at NCRC — 22 of which were recruited in part because of the collaborative offerings of NCRC, according to the university.
Employees working there have access to the vast scientific infrastructure —labs, powerful microscopes, instruments that sequence DNA, large databases— but also facilities meant to improve the work environment at the complex, which is located outside of downtown Ann Arbor. Those include exercise facilities, child care and a cafeteria.
Canter said the space needs newer technology to attract and retain faculty and an infusion of interactive space. Such improvements require funds, and U-M recently halted a $17.5 million renovation of a building at NCRC.
Canter said employee satisfaction at the site is growing. In 2011, 65 percent of employees said they were either satisfied or very satisfied with the NCRC space. In 2012 that number grew to 76 percent in a 2013 survey it grew to 83 percent, Canter said.
Last year at this time NCRC was home to 1,420 employees. Its projected capacity is between 3,000 and 3,500 employees.
Kellie Woodhouse covers higher education for AnnArbor.com. Reach her at kelliewoodhouse@annarbor.com or 734-623-4602 and follow her on twitter.