Posted on
Sat, Apr 3, 2010 : 5 p.m.
Unveiling of new iPad draws crowd to Apple store in Ann Arbor's Briarwood Mall
By John Garcia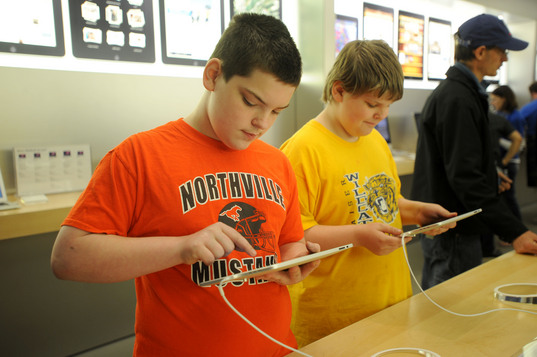 Angela J. Cesere | AnnArbor.com
A group of cheering Apple employees greeted a long line of customers outside Briarwood Mall's Apple store early Saturday, minutes before the doors opened, giving those waiting the first chance to purchase Apple's new iPad.
The iPad went on sale publicly across the nation for the first time on Saturday. The new device shares many of the functions of an iPhone - it has the capability for users to download books and applications and watch movies - but also has a significantly bigger screen, at 9.7 inches wide. Many see it as bridging the gap between a smart phone and a laptop computer.
Apple's Ann Arbor store opened at 9 a.m., an hour earlier than a typical Saturday, in anticipation of a crowd filled with people like Dave Buchanan and Steve Bostedor.
Buchanan and Bostedor, who have a podcast that focuses on the iPad, waited outside of mall hours before the doors opened and even made T-shirts for the event.
"We were the first ones here at 2:30 (a.m.). We actually pre-ordered (the iPad) but
it's just fun to hang out with these great people," said Buchanan, who is 28 years old and works for a web and media company called Coefficient Media.
"I wanted to come out and experience the whole community thing," said Bostedor, who is 36 and works at a company called Bozteck Software. "It's actually better than I expected. It's just so responsive, it's more than worth the money."
Apple separated the crowd into two lines, one for people who had pre-ordered and another line for those who didn't pre-order. Vik Tandon, a manager at the Apple store said, he couldn't say how many iPads the store had.
"It will be nicer for watching movies than an iPhone and I fly a lot. It will also be good in the office to take notes, I won't have to carry a notepad around," said customer Kevin Ertell, 42, an executive ForeSee Results in Ann Arbor.
"My wife is thoroughly convinced they won't have won't have any left. She thinks I'm an idiot to come down here," Ertell added.
The hype was big enough to bring some people who didn't even intend to purchase the iPad.
"You know what, I'm on spring break and I said let's do this. I've never been to an Apple opening before," David Michaels of Ann Arbor, who is a student at the University of Wisconsin. He showed up with a camera to take pictures and but didn't plan to purchase an iPad.
Two employees from California Pizza Kitchen gave out free food samples to those waiting in line, and Apple employees walked around the lines to let people try the iPad. The store seemed well-prepared for the event but wouldn't comment on how many employees were working.
"We always expect crowds to appear when we release a product," manager Dave Ginbey said.
Click below to see a slideshow of photos from the iPad release at Briarwood Mall:

John Garcia is a freelance writer for AnnArbor.com. Reach the news desk at news@annarbor.com or 734-623-2530.