Posted on
Fri, Mar 15, 2013 : 4:03 p.m.
Updated forecast: Snow to move into Ann Arbor area Friday night
By Cindy Heflin
Snow is still in the forecast for the Ann Arbor area Friday, but it's going to start a bit later than originally expected.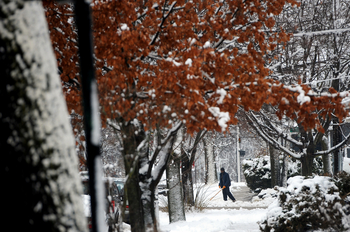 Melanie Maxwell | AnnAbor.com
Forecasters expect from 1 to 3 inches overnight Friday in Washtenaw County, with most areas getting about 2. Some snow showers could linger into Saturday morning, but less than an inch of additional accumulation is expected.
The precipitation is expected to start Friday afternoon after 4 p.m. with rain. Forecasters had earlier expected the rain to start much earlier in the day.
Some snow is likely to mix in with it after sunset, said National Weather Service forecaster Joseph Clark. It will change over to all snow after midnight. The chance for precipitation is 80 percent. An overnight low of about 27 is expected.
Some snow showers could continue Saturday morning, tapering off between 9 and 11 a.m., Clark said. After the snow ends by about 9 a.m., expect cloudy skies with a high of about 35.
Sunday, it will be mostly sunny with a high near 36. But Sunday night and Monday could bring a mix of snow, sleet and freezing rain.
Meteorologist Cory Behnke with the National Weather Service said any significant accumulation will likely remain to the south of Ann Arbor.